Kitchen and bathroom renovation is based on style and looks like a massive project, but it can leave a big smile on the owner's face once it is completed. You prefer to decide on those design tips and tricks that will give them a specific look, but you can also enjoy the comfort for the length of time you would like to live there, and not only this, it will also boost your home's value at the time of sale.
When it comes to kitchen styling or bathroom vanity, from flooring to painting walls and lighting to cabinets, selecting good-quality cabinet hardware is just as important as your cabinets. Because cabinet hardware is something with frequent use in everyday undertakings.
You can't overlook the importance of cabinet hardware as you're investing in eye-catching cabinets, and you need something to open those beautiful cabinets. Installing cabinet hardware in the right placemarks a dramatically amazing impact on your kitchen and bath's aesthetic look and feel.
So, up till now, you may understand how cabinet hardware can be well worth your investment. Although deciding kitchen and bath cabinet hardware is purely personal preference, here we'll help you with how to install cabinet hardware depending upon their style, finish, and size to convey the perfect look.
What Is Cabinet Hardware?
Cabinet hardware refers to handles or knobs and pulls mounted to the exterior of cabinet drawers and doors. The primary function of cabinet hardware is to open or close a drawer or door. They are important in performing cabinetry operations and completing the aesthetic look of the room.
Hardware for cabinetry also includes hinges that are important to attach the door firmly with the cabinet frame. The number of hinges that you need depends upon the height and weight of the cabinet door.
Importance Of Cabinet Hardware – What To Consider Before?
Imagine your kitchen that has no hardware at all. Doesn't it look really strange?
Cooking in the kitchen can get messy at times!! Because in a kitchen, you're dealing with cooking oils, flour, liquids coming out from the meat, vegetables, and fruits. And now, when you are in the midst of all this, and you find a need to open your drawers or doors to pick something out!
Do you want a big smudge of cooking oil or anything else on the front space of your cabinet surfaces?
 No, of course, you don't want that! The solution is to use appropriate cabinet hardware to make your kitchen more versatile.
Now, whether you want to replace existing hardware or you're installing new hardware, it's a fast and inexpensive way to upgrade your kitchen and bathroom.
As this decorative hardware comes in numerous styles, shapes, and finishes, you have to choose the correct one that will fit your taste and requirements. Style, shape, and finish are the essential characteristics you have to consider when shopping for hardware.
Well, there is no hard and fast rule for selecting cabinet hardware. All you need is to consider some general rules and guidelines to ensure that your hardware should be appropriate according to the cabinet's design and the theme of that particular room.
 Types Of Cabinet Hardware
Even though cabinet hardware seems to be the smallest thing in your room, they have a large impact on the room décor, so it should not be neglected. They should complement the look of your required space.
Choose functional hardware in terms of comfort and durability because hardware's functionality is just as important as its visual appearance. Cabinet hardware also reduces the contact of your hands with the cabinets, which can keep your cabinets clean.
Let's dive into some types of cabinet hardware so you can find out which one is right for your home.
Knobs
Cabinet knobs are the most common type of hardware and are generally small in size, therefore don't cover too much space on your cabinetry. Knobs come in a wide variety of designs and shapes. Typically, we find knobs in round shapes. They are easy to install because you just a single screw to attach the knob to the surface.
Pulls
Cabinet pulls are an excellent choice to give your cabinets a wonderful and sleek look, as pulls are available in a large number of unique and attractive designs. Pulls come up with many different sizes to compliment your doors or drawer's appearance. Moreover, they are easy to grip as you can grasp the pull by moving your fingers behind the pull to slide out the drawer or open the cabinet's door.
Cup pulls
Cup pulls are one of the most popular cabinet hardware styles that bring unique variations in cabinet pulls. They are shaped like a half-circle or half-oval in which you can slip your fingers underneath the cup pull to grab a grip of the pull. They tend to give a timeless look with its traditional, transitional, and many more variety in style. It could be an excellent hardware choice as it can give your cabinet a versatile look with its different designs and style.
 Finger Or Edge Pulls
For ultra-modern and minimal kitchen or bath look, finger pulls have become a widely adopted top trend these days. If you want a modern and contemporary look for your doors and drawers, then you should go for these types of pulls as it's a sleek way to install hardware without taking away the delicate look of your cabinets, furniture, or whatever.
Edge pulls are also a kind of finger pull. Edge pulls are designed to accomplish two important things:
1.      They consist of a 'drawer pull' that you can grasp to open a drawer or a door by keeping your messy hands away from the surface of your cabinets.
2.      Secondly, edge pulls are 'back mounted' to the door or drawer, i.e., no hole is drilled throughout the front surface of the cabinet. The edge pulls the mount at the top or bottom (or backside) edge of your cabinet door or drawer.
To Buy such amazing types of cabinet hardware, you can make your kitchen and bathroom the envy of all your family and friends. Stay tuned with us! Because later, we will provide you with hardware installation techniques that might help out
How To Choose Cabinet Hardware?
One important thing to keep in mind while choosing cabinet hardware is that it matches the rest of the interior theme. So, here we go with some essential points that you must consider choosing cabinet hardware suitable for your space.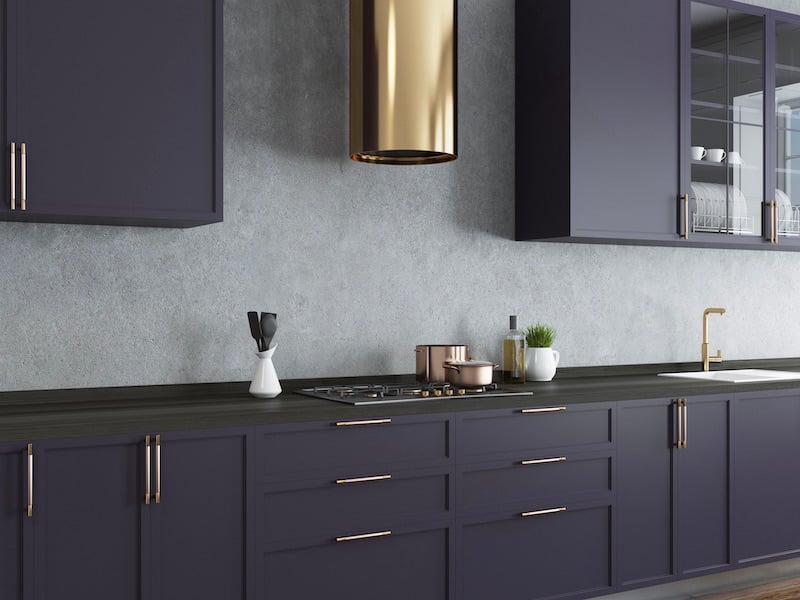 Choose A Style
Every kitchen and bathroom has its definite style; whether these rooms are simple, traditional, or ultra-modern, you have to shop for cabinet hardware designs within that style collection. Your hardware style should be according to the style of your cabinet doors or drawers and the overall theme of that particular room.
Traditional
If your cabinets are traditionally designed with the theme of the room, then you can prefer classic and embellished ornate types of knobs and pulls.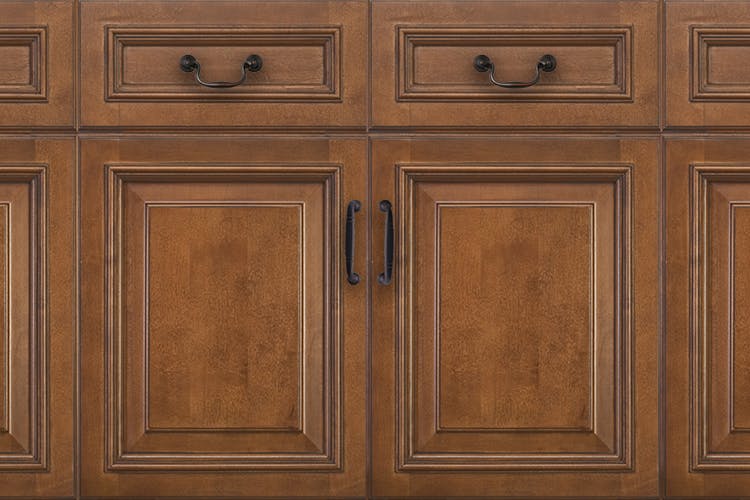 Contemporary  
When your cabinets are simigned or contemporary, you can go for sleek and straightforward hardware like tubular pulls.
Eccentric Designs
Even eccentric designs available in this hardware can fit your room's theme, which can be nature-based (like leaves, flowers, fruits, animals, stone, etc.) or cartooned according to children's interests.
Seriously, there are endless options! You can also consult a hardware style expert or an interior designer that can help you in this head-scratching and confusing process of choosing a style for cabinet hardware.
Consider Material And Finish
Cabinet knobs and pulls are so beautifully designed to elevate the appearance of your cabinetry and come in a wide variety of finishes to choose from. Material and the finishing of the cabinet hardware should be focused on carefully before buying them.
Matte, glossy-polished, brushed, and oil-rubbed give a slightly different finishing to elevate the look of the handles.
We suggest keeping all hardware finishes matching the interior of the room. There are numerous types of finishes available to add interest to your kitchen and bath cabinets, such as
Chrome or Brushed nickel
 Oil-rubbed bronze
 Satin brass
 Black Matte
 Rose Gold
 Rust
As you shop for knobs and pulls, you may find several materials such as wood, crystal, stone, glass, porcelain, etc. These elegant materials will add a pop of graceful look to the kitchen and bathroom cabinets.
Select An Appropriate Size
Your choice of style for cabinet knobs and pulls can determine the size of the hardware you should choose. The key of hardware size is more specific to pulls as it possesses a wide range of variety based on size. On the other hand, the knob's size doesn't matter as such; they should just resent a proper fit, that's it.
We generally recommend the standard ratio for pulls to be ⅓ of the cabinet drawer width and ½ to ¾ height of the door. It's your choice either to keep the pull size the same or different throughout the kitchen and bathroom.
 Comfort Zone
Up till now, you are almost done with deciding about cabinet hardware based on style, finish, and size. But one more point to be noticed is your comfort zone. Check properly that the selected knob or pull should perfectly fit in your hand. Avoid cabinet handles that can cram your fingers due to their sharp and pointed edges. It can get pretty annoying when you have to use them more than 100 times per day. Although opening and closing cabinets with knobs or pulls may seem to be a small task, you should be comfortable handling the hardware.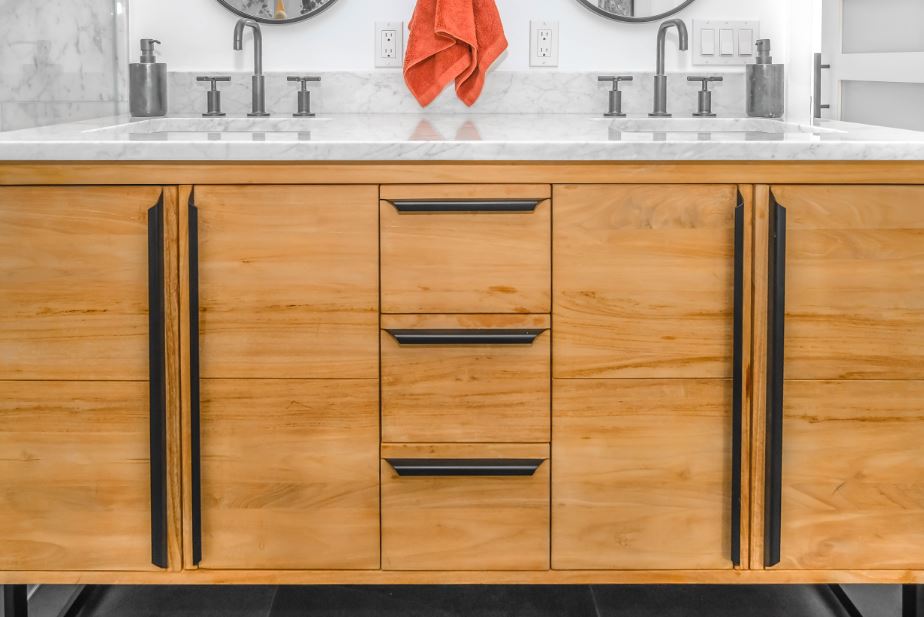 Cost
Last but not least! Cost is something that you can't ignore. Cabinet knobs and pulls can vary in price. You're going to buy it once to love it forever. So, our sincere advice is to go for higher-end options. Because if you buy normal quality cabinet hardware with low prices, we can't guarantee you their longevity.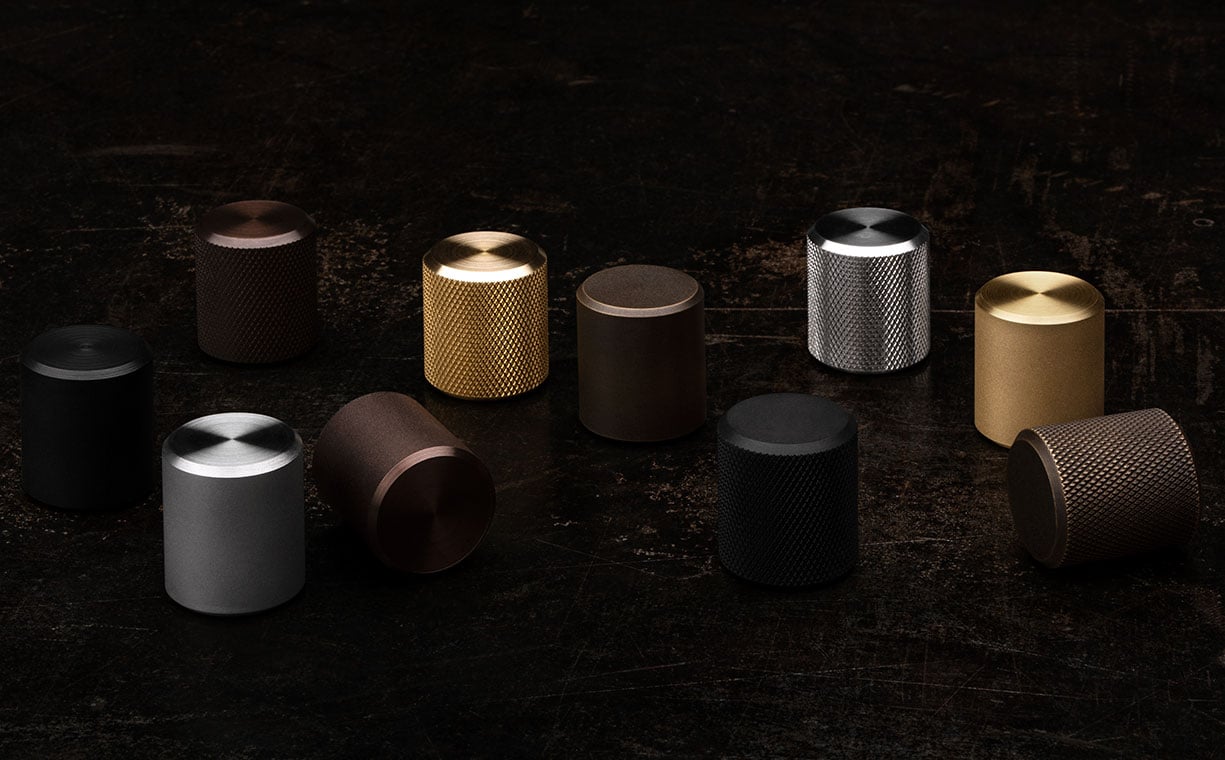 Tools For Mounting Cabinet Hardware Easily
Before we get into the steps for installing cabinet hardware, we're first going to give you an overview of some primary tools that can be used for installing cabinet hardware.
Measuring tape or Speed square
 Installation Jig or Template (home-build template)
 Screwdriver
 Drill machine and drill bit
 Screws
 Pencil
 Required hardware (knobs and pulls)
Steps To Install Cabinet Hardware
Now, it's time to get to work. Let's get started! This step-by-step guide will help you to install your cabinet hardware.
1.       Decide Hardware Placement And Position
The first step in installing cabinet hardware is to plan for the placement of your knobs and pulls. Always make sure that your cabinet hardware should be installed at the correct and exact point of access so that it will look balanced.
You can decide hardware placement and position by placing the selected hardware temporarily at different points where it looks better, as this decision is totally up to you.
For standard placement, it is recommended to keep your cabinet knobs or pulls at the center two to three inches from the top or the bottom of a door.
2.       Mark Holes Or Build Template
Once you've figured out the overall look you want, there will be a need to mark holes for your hardware to be spaced evenly.
For this purpose, you can use a jig or a template to pencil mark the drill hole locations. If you don't have a jig, you can create a template with a scrap piece of wood or cardboard. Hold your template and bring it up to a cabinet door to settle it along the edges of the door.
When you have multiple hardware to install in an entire kitchen or bathroom, a jig or template will help you ensure an exact location for each cabinet pull or knob.
3.      Drill Holes
Now, it is tricky to drill holes because it requires precise concentration.
You will drill from the front side of the cabinet door and try to use a modestly-sized drill bit for the first hole to prevent splintering of the wood. If you're over-cautious with the front finish of your cabinets, use a piece of masking tape on the front area where you're drilling; in this way, you can avoid wood splintering or scratching.
When you drill the first hole successfully, move on to the next one. And by repeating the same process, you can quickly drill all the marked holes.
4.      Attach Hardware
The hard part seems to be over. Now, it's time to mount your hardware of choice with screws. Place your hardware in front of the drilled hole to secure the hardware with screws from the back. With a screwdriver, you can tighten the screws. Repeat for all the remaining cabinetry, and enjoy your new kitchen cabinet hardware look!
Essential Tips For Cabinet Hardware Installation
If you will install cabinet hardware for the first time, try to drill a few holes on a piece of scrap wood just for practice before drilling into your cabinet doors.
Use dry-fit adhesive putty before you begin drilling into your doors and drawers to attach your knobs or pulls to your cabinets temporarily.
When replacing old cabinet hardware for something new, you can use mounting plates to hide the old holes.
Knobs usually tend to lose with time. To avoid twisting or turning knobs, you can place a tiny drop of super glue at the back of the knob while installing it.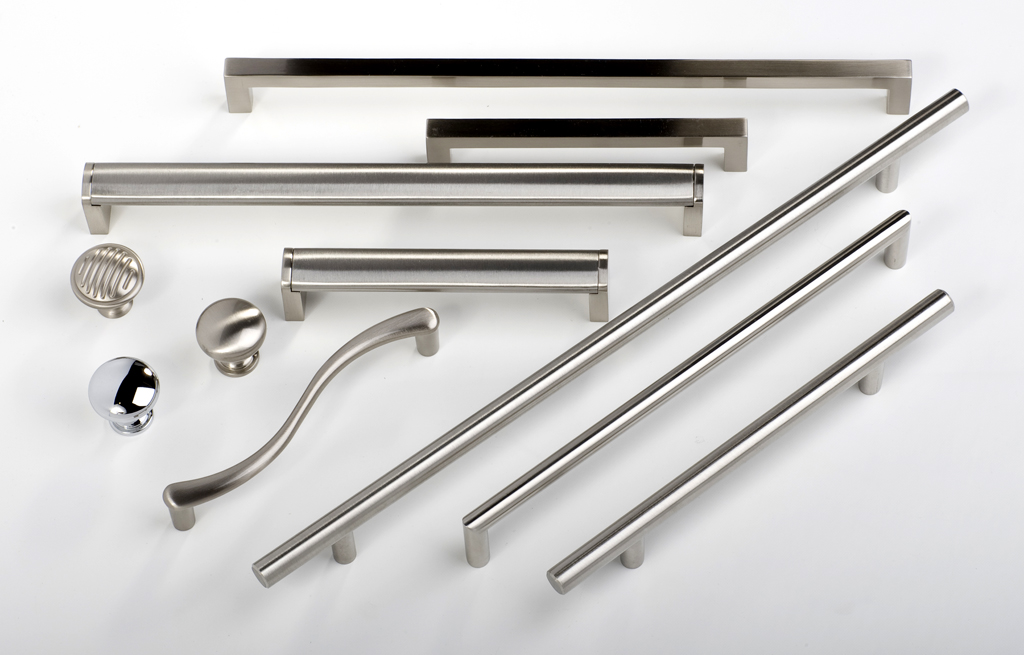 Frequently Asked Questions(FAQs)
How Can Cabinet Pulls Be Installed Without A Template?
Suppose you want to install your cabinet hardware correctly, but you can't buy a template or jig. In that case, we'll suggest you make your template by following any DIY trick because you need precise and accurate marking of holes for drilling, which is only possible with a template.
Is It Necessary To Install All Cabinet Pulls Of The Same Size?
No, your cabinet pulls don't need to be the same size. It depends upon your choice of style. Because if there is an extra-wide drawer, you can either use one large size pull or two separate pulls.
Conclusion – Last Few Words!
With so many options for cabinet hardware, installing the correct one on your cabinets may seem daunting. Still, it's relatively easy if you know all the basics of choosing the hardware accurately and all the details of installing cabinet hardware properly.
The cabinetry in your kitchen and bathroom provides essential storage space and is a pretty addition to your room's décor. Cabinet hardware also elevates your sense of design and style that complements the cabinets drawer and door fronts while coordinating with the rest of your interior décor theme.
 Hardware serves a definite purpose of functionality in your kitchen and bathroom, so you should install knobs and pulls with precise care to avoid the awful look of your cabinets.