Whether uniquely shaped or beach-inspired, Kitchen Islands are a focal point and heart of your kitchen that allow you to use it as a multifunctional space for various purposes like cooking, seating for a casual coffee break after a long day, storing some extra stuff, and yet as a decorative piece too, adding to the layout of your kitchen.
But, how do you know which design to choose? Whether to go for all neutral shades with a deeply veined marble island matching your kitchen or a rustic wooden island with multiple cabinets? That's what this blog is all about.
As you go through it, blow by blow, all the ideas and how to choose the right design for your kitchen will be cleared.
What Is A Kitchen Island?
A kitchen island is an addition to your kitchen that adds functionally and aesthetically. A traditional kitchen island is a rectangular freestanding unit, present in the center of your kitchen, having many internal cabinets and amenities in it.
Moreover, it has a breakfast counter at either of its corner. There is no second thought that these islands have become a perennially popular element and an essential part of our modern kitchen.
A single kitchen island is a magical, multipurpose innovation that can combine a mini kitchen and dining table. Some of the chief functions of kitchen islands are:
A cleaning center
Cooking area
A social hub for family
Food prep area
Storage
Things To Consider Before Designing A Kitchen Island
Although the kitchen island is an integral part of our modern kitchens that adds to its utility and overall look, choosing the right island for your kitchen can be pretty tricky and confusing.
There is no fixed standard to design the perfect kitchen island. Here are a few things to consider before going for one:
Why Do You Want A Kitchen Island?
The first thing to consider is your main reason behind buying a kitchen island, whether you want more storage space or an additional cooking prep space.
Appliances To Add
Once you are clear with the prime reason for buying the kitchen island, the following point is the appliances and amenities you want to add as per your need, whether you want more cabinets, a mini sink, or a beverage unit.
Size Of Your Kitchen
The size of a kitchen island should follow the size of your kitchen.
A random piece of advice is that almost 36 to 48 inches of circulation space must be left around the islands.
Portable Or Fixed
It is essential to consider whether you want a movable kitchen island or a fixed one. Each has its plus points, so choose accordingly.
Advantages And Disadvantages Of Kitchen Islands
Everything has its boon and bane, so do kitchen islands have. So, let's go through them.
Advantages
Maximum Storage Place
No matter how large and luxurious the kitchen is, you never find enough space for storing things. Adding an island can be dramatically effective in solving the cumbersome problem of storing extra appliances and crockery when the bench walls of the kitchen are already occupied.
With various cabinets, drawers, roll-outs, and shelves, you have a prominent extra storage place, and it finishes your stress over kitchen clutter.
Extra Amenities 
As the primary purpose of the kitchen island is to facilitate you as much as possible, why not add extra amenities? Yes, you can add different amenities like a microwave, small fridge, beverage unit, sink, and stove. Isn't it simply amazing?
Extra Seating 
Here you go with the benefit of more seating. It can act as a dining table or sofa as per your design. Moreover, it can be used to cook and enjoy your family simultaneously. By this, you can also keep an eye on your kids.
Customizable 
Your kitchen islands are customizable in style, size, design, or material. You can choose any countertop material, from wooden grain to deeply veined marble. So, the possibilities are innumerable!
Increases Value
Yes, adding islands in your kitchen adds to the value and worth of your house. Surprisingly, 76% of home buyers prefer to buy homes with an island in their kitchens.
Disadvantages
Although the disadvantages of kitchen islands are second to none. Some main setbacks are:
Disrupts The Triangle 
The major disadvantage is that mostly the kitchen islands are placed to interrupt the triangle of work in the kitchen.
Budget Problems
Another disadvantage of kitchen island is that it can be too costly at times, that not everyone can afford it, even the smallest one.
Space Constrictions
Yet another problem is that the kitchens become tight and compact in space. However, this problem has been solved with the modern moveable kitchen islands.
Kitchen Islands Vs. Peninsula-The Better Option
Before finding out the better one of these two, let's see what a peninsula is.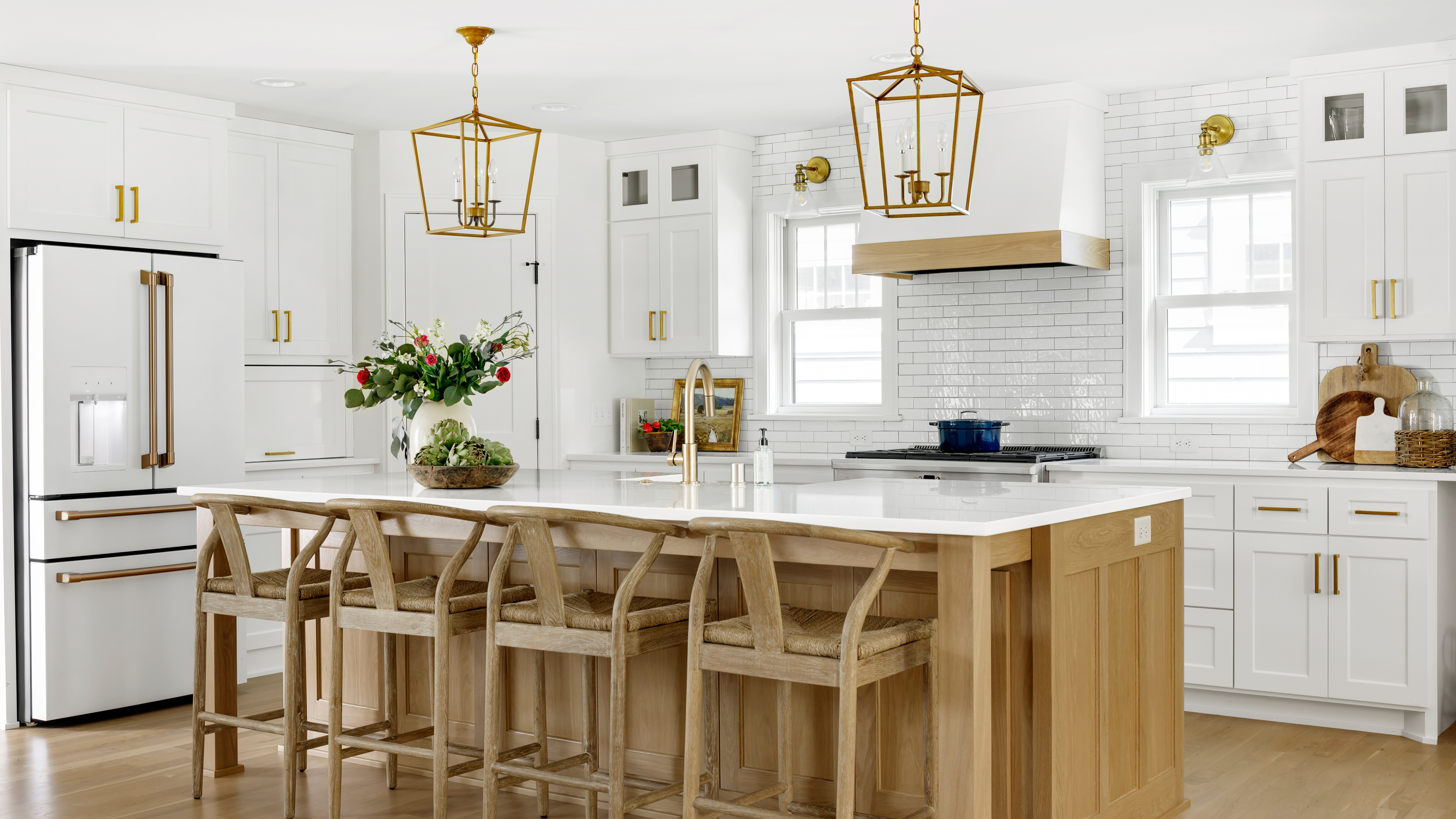 Peninsula 
A peninsula is more or less an extension of your cabinet. It is directly attached to the cabinet or the wall, leaving three sides open for utilization.
Opting for a peninsula or an island is entirely according to your needs and demands. Peninsula works best in small kitchens, where you can't even place a kitchen island. But overall, kitchen islands got various plus points over peninsula like:
The kitchen island has all four sides for purpose, while the peninsula has only three sides.
There are more design options available in kitchen islands, so you don't need to compromise on the beauty of your kitchen.
You can add a variety of amenities to your kitchen island, from trash cans to fridge, but not all of them can be added to your peninsula.
Kitchen islands are now portable; hence they can be moved in and out quickly. On the other hand, the peninsula is permanently attached.
Kitchen Island Design Ideas
Here is a list of ideas that will help you choose the right size, shape, finish that will add to your kitchen.
1. Ample Space 
If the prime purpose of your island is an informal dining space, always design an island with enough legroom and elbow room.
No one would like to sit uncomfortably in a tight place, right? So, it's a critical point to consider while designing the island. You should leave 60-70 cm space for a person and almost 10 to 12 inches for the legroom.
2. Choosing The Perfect Worktop
While finding the appropriate worktop for your island, you have a variety to choose from wholesome wooden to deeply veined quartz or marble finish.
But you should always opt for the one that fits your need of using the island. If it's primarily for cleaning and washing purposes, the wood countertop is a big no as it can absorb water and come damaged.
So, here are a few ideas:
Laminate worktops for family dinners and breakfast bar
Stainless steel worktops are best for washing islands having sunk in them
Ceramic worktops are a simple jack of all trades, from cooking to sitting and doing nothing.
3. Multi-Layered Island For Different Purposes 
Adding different zones while making the island is a great choice
 It serves other purposes like:
The upper marble part with an incorporated electric stove is ideal for cooking purposes.
The lower zone of incorporated wooden butcher block, which can serve as a breakfast bar, or coffee table
4. Portable Kitchen Island 
What can be more worthy than a portable island which you can quickly move in and out of your kitchen according to your needs? Yes, now islands are available with this facility too.
So, there is no need to come to terms with omitting the socializing spot of your family, even if your kitchen is not too large. Moreover, it cuts off the need to install them.
5. Incorporate Area Extra Storage 
Always opt for that design of an island that can be used for storage purposes. The foundation is always present below, no matter which type of design you go for, ranging from a basic marble design to a combo of layers that can be used for multiple functions.
So, why not utilize it properly. The foundation always has adequate space for storage. Below are the various configurations ideal for purposes:
Vertical cabinets for your long dishes and trays
Horizontal cabinets for all extra bowls and electronics
Open, slimline shelves for your pots and cookbooks
Steel rungs for hanging cups and mugs
That is not all! Hardware always plays a great role in defining the final outlook of islands. How can you forget to add show stopper hardware?
6. Find The Right Spot
Finding the right place for your island is as important as having it because it can make you feel at ease. While selecting the prime spot, always remember your primary purpose behind buying the island.
If you designed it for cleaning purposes, it should be near your dishwasher.
If you designed it for cooking preparation, it should be near an electrical socket and other appliances.
If it serves mainly as a social hub, every spot is perfect
7. Lighten Up Your Island 
As the island is the heart and central attraction of your kitchen, it should be adequately lit with various lights to create the best environment accordingly for practical tasks or intimacy.
It would be best to have lights with multiple options of switching from warm and dim lighting to bright ones.
If you are using the island for a sitting and entertaining purpose, bright light is the worst option to go for. Instead, warm yellow light with a soft glow and dimmed overheads is the perfect match with a hot coffee.
While for practical cooking purposes, dimmed lights aren't going to work at all. You, at any cost, need cool, bright light of 5000 to 6000K temperature color.
8. Colour Scheme That Matches Your Kitchen
Another thing to think about is choosing the right color scheme that complements the color of your cabinets and adds to the overall look of your kitchen.
Following the trend is a good thing, but not always. If you have wooden cabinets, go for a rustic wood island. If the cabinets are painted with neutral shades, go for a deeply veined marble island.
9. Irregular Shape With Rounded Edges
You can go for a fully circular island or an irregularly shaped island with curved ends. Why go for a traditional rectangular island when you can add unusual shapes and curves? Yes, always change the design and add a unique statement look of your own.
Designing your own uniquely styled island will inevitably cost you more, but it will add a statement look that can't be achieved from the traditional rectangle Islands.
10. Adding Plug Sockets
Why get into the hustle of extensions when you can install power sockets on your island. Not only can this be used for giving the power to operate your appliances, but for charging your laptops and tablets while enjoying drinking your hot chocolate.
Also, add USB slots to your sockets as many of the latest tech devices use these slots.
11. Adding Stove And Sinks 
Adding electric stoves and sinks to your islands are also a great choice. Not only do they make your kitchen cooler and larger, but they also make things more accessible. Inserting a small sink in your island for only hand washing purposes sounds more hygienic and clean, instead of using a single sink for washing dishes and hands.
12. Adding A Small Fridge To Your Island
Adding a fridge in the space below your countertop on the island is excellent. In it, you can store drinks, fruits, vegetables, freshly cut salads, ice cream- anything you want to. You can also keep jams and butter if you use the island primarily as a breakfast bar.
13. Overhanging Workspace 
Don't have ample space in your kitchen, but want a large island that can serve various purposes? There is nothing to bother about as you can design your island with an overhanging workspace, like our dining tables.
The chairs or stools can also be placed entirely under the extra workspace. You can use the additional space as a breakfast bar or for putting in additional appliances, making it the best choice for kitchens with compact space.
14. Use As A Dining Table And Sofa
It is not surprising that with more and more advancement, you can design your islands to use them as dining tables or sofas. It finishes the requirement for a separate dining table.
It is one of the most modern additions made that saves space too. You can add foam to the last layer of your L-shaped island and turn it into a sofa.
15. Extending Worktop Material Down On The Sides
Are you lov8ng the material and finish of your countertop more than anything? Then why not consider adding it to the slides too.
Not only will this add to the look, but it also creates a luxurious feel of a perfect modern kitchen. Please don't cover the perpendicular sides as they act for storage.
16. Be Careful About The Leftover Space
While Islands are the heart of your kitchen and come with various advantages, before adding it, always consider the available space left on the side that invites an easy flow. Always leave ample room to move around the islands.
17. Rectangular Island With L Shaped Breakfast Bar
What? Yes, your regular island with drawers and cabinets can provide double breakfast seating by adding L-shaped at its corner of another material, making it stylish, prominent, and more valuable.
18. Extra-Long Island
If you got a luxurious kitchen with lots and lots of space, why not consider adding an island that makes your kitchen stand out?
Extra-long islands provide as much space as reminiscent of a cocktail bar, becoming a better alternative than a dining table. It can act as an entertainment place or a social hub of your family, where you can eat, cook, and talk altogether.
19. Adding Two Islands 
If you are blessed with a luxurious kitchen, use that space properly by adding two kitchen islands in the kitchen, leaving the central place free. Yes, two are always better than one in anything, so is in the case of the island.
The idea of two islands will double the storage space seating place and separate the cooking island from family entertainment and dining islands.
20. Deep Drawers For A Streamlined Look
Sleek, deep drawers can add a statement look to your islands. They look elegant and classy, enabling them to be the center of attraction. Although dividing the drawers into numerous drawers and shelves, adding only two deep drawers is a great alternative to opt for.
21. Stainless Steel Worktop-Easy To Go Style 
All worktops are best for a specific purpose and not for all; a stainless steel worktop is the most practical option for your kitchen islands.
Whether using the island for cooking preparation, washing, breakfast bar, or inserting amenities ranging from stove to sink, a stainless steel worktop is suitable in either of the conditions due to its properties like
Easy clean
Hygienic
Corrosive resistant
Not damaged by water
Heat resistant
22. Inserting Trash Cans
No one likes to see trash cans on their kitchen floor. So, here the kitchen islands come with a solution. You can insert cabinet-enclosed trash cans in your islands.
23. Pull Out Tables
A clever design idea is to insert pull-out tables in your islands. They neither occupy space nor make your islands look extra large as they are pulled out at the time of need, doubling the work area and seating place, and as soon as you are down, push them back into the islands.
6 Common Kitchen Island Mistakes To Avoid
Designing a kitchen island is an excellent addition to your kitchen, but if not inserted and made correctly, it can ruin the whole look of your kitchen.
So, here are the few common mistakes to avoid while designing the island
Not taking into consideration the proper dimensions and size of the island, resulting in either a too big or too small island for your desired kitchen.
Placing the island in the wrong place leaves you with little circulation space. Even the most perfect island becomes useless if not positioned correctly.
Choosing the wrong surface material
Not adding electrical sockets, not making it useless from all aspects.
You are putting the main sink on your island. It is a straight no because if you have the main sink on the Island, it will become dirty and fail to serve as a fun place for the family.
Poor lighting placement
Upgrade Your Kitchen Island At Home
Since kitchen islands have massive use, they start to age with time. But, nothing to stress on as it comes with DIY-friendly options to upgrade it, giving it a completely new look. So, here are a few suggestions to upgrade your existing kitchen islands:
Change the countertop of your island with new materials like quartz or engineered stone worktop. They are easy to clean, require lower maintenance, and are more durable.
Refinish the cabinets of your island, and opt for painted cabinets that add an antique and rustic effect.
Change the old hardware of the island with the new ones. Consider using a mishmash of pulls and knobs to give a unique look.
Top 4 Trending Kitchen Islands To Install
Although everyone got their taste and designs to choose from. But still, if you are confused, below are the four topmost trending island designs:
Kitchen Island Table
A kitchen island table is like a simple table with an additional lower shelf. It gives a neat and clean look to your kitchen, is easy to move, and is cost-effective too. However, it doesn't include adding sinks, stoves, and other amenities.
Double Tiered Eating And Cooking Kitchen Island 
The double-tiered kitchen island makes you eat and cook at the same place. It has got proper divisions into two layers, with the upper layer being used for cooking preparation and the lower for eating or washing.
It is a highly functional island. But it can only be installed in large kitchens as they cut off a lot of circulation space.
Rolling Kitchen Island Cart
Small rolling kitchen island carts are new yet trendy. As they come with tires, they can be moved around easily. Moreover, having an electrical socket, cabinets, and a breakfast bar for two, this butcher block island cart is unique yet functional.
The only problem is that sometimes, the wheels can become unlocked by themselves.
Fully Functional Island
A fully functional island has every facility, including the prep space, cabinets, shelves, electrical sockets, water supply sink, drainage system, and stove.
It is all in one package that doubles the kitchen workspace in every aspect. The only problem is installing them is quite costly.
How Much Do Kitchen Islands Cost?
There is no fixed price for a kitchen island with a wide range of kitchen islands varying in size, shape, material, and structure. However, built-in islands with cabinets and shelves most commonly used cost somewhere between $500 to $700.
Frequently Asked Questions (FAQs)
What Is The Standard Size Of A Kitchen Island?
Although the perfect size of a kitchen island ultimately depends on your kitchen size, the average size is said to be one by 2 meters (40 by 80 inches), leaving enough space around it moving.
Are Kitchen Islands Going Out Of Style?
No, there is no second thought that kitchen islands have been gaining more and more popularity since the 1980s. Now they have turned into the kitchen's social hub and focal point.
Is It Better To Have A Kitchen Island Or Kitchen Table?
Although kitchen islands and kitchen tables have their plus points, kitchen tables can't beat kitchen islands when compared. This is because of the various additional features that kitchen islands provide you, while kitchen tables aren't able to.
Conclusion- The Last Thought!
There is no second thought that kitchen islands are a great addition to your kitchens that turn your kitchen up to a minute and provide you with various benefits. With multiple ideas to choose from, install a perfect kitchen island in your kitchen or opt for a movable one according to your ease and requirements!