With the kitchen island being your family's social hub and gathering spot, it can't function without a proper seating arrangement. But finding the right bar stools for your kitchen island can be quite a cumbersome task.
Apart from the array of styles to choose from, one needs to look for the appropriate material, height, seat size, and various other factors that also match and complement the kitchen interior equally.
So, here is a straight-to-go guide to choosing the perfect bar stools for your kitchen. Stick till the end and blow by blow, you will come across all the points!
What Are Kitchen Bar Stools?
To be more specific, bar stools are a sort of stool that falls within the category of stools. Some of you may have already seen them at bars; they are available in various styles, including backed counter stools, backless counter stools, backed bar stools, backless bar stools, armed stools, armless stools, rotating and non-spinning ones.
Its contemporary yet elegant design adds to the overall appeal of your kitchen's interior design theme. If you are also one type of person who enjoys cooking while relaxing, bar stools are a great choice because they allow you to sit, rest, and chill while sipping your coffee. They are kept beneath the kitchen counter or the kitchen island as a safety precaution.
Why Do You Need A Stool Bar For The Kitchen Island?
Although the kitchen island's stool bars are primarily used for seating, we have many styles and designs to choose from.
They are a great addition to the heart of your home, the kitchen. While kitchen islands are the focal point of your kitchen, these stool bars complement them, giving your kitchen island a complete look both functionally and aesthetically.
Things To Consider Before Buying The Right Stool Bar
Once you have decided the type of kitchen island you want, the next point to gain attention is to find a bar stool for your kitchen island, which:
Coordinates with both your kitchen interior and island design
Are functionally comfortable
Here is the guide to the factors you must consider while opting for the right stool bar.
Right Stool Height
When buying a suitable bar stool for your kitchen islands, stool height is the first thing to consider. For this purpose, find the height of the surface or countertop and leave almost 9 to 12 inches between the seat of the barstool and the underside of the island's countertop surface, giving adequate space for legroom.
So, if you have a bar top, the tool height ranges typically between 28 to 32 inches, while if you have a countertop, consider those with a height of 24 to 27 inches.
 Material
When choosing the material of a barstool, you need to keep in mind that it can't be wholly selected based on your ease and preference.
It would help if you opted for the material that complements and matches your kitchen. Choose metallic, wood, or any other material, depending on the scheme of your kitchen. If you have a rustic wooden kitchen, you can't go for a metal barstool.
Another point of consideration is the type of material used in making the barstool. Here are a few bar stool materials:
Wood is a staple of designs that can work with any look and scheme, whether traditional or modern. Moreover, they are durable and budget-friendly, making them the best material to be used.
Metals, just like wood, are versatile enough to be used in any kitchen decor.
When it comes to leather, no doubt it can be expensive. But these are far more long-lasting and easy to maintain.
Adjustable Bars And Counter Stools
Although you can measure the kitchen island and choose the stool accordingly, another option to go for is adjustable bars and stools.
It would help if you had a barstool of more height than the norm for a toddler. These seats come with a hydraulic column to vary the height of stools. These bars can be adjusted in height as per the height of your island or the people.
Consider The Function 
You must be clear with the prime reason behind buying a barstool or counter stool. The function of the stool matters as much as the look, so you should always be clear.
Choose stools with arms and deep seating if you want a more comfortable seating arrangement.
If you want flexibility, then a rotating backless stool is a perfect choice.
Back Or Backless
Another parameter to consider is whether you want bar stools with backs or those with no back at all. However, there is no hard and fast rule to follow.
You can solely choose according to your preference, but generally, if you use the kitchen island as a dining table, stools with a proper back are preferred. They are more comfortable too. But, if you want stools that can tuck away completely inside the countertop of your island, backless is a better option.
Seat Size
The whole stool becomes useful if you can't sit on it comfortably. The barstool seat should be broad and deep enough to allow you to sit comfortably.
The majority of people, mostly elders, prefer broader and deeper seats. But the seat should not be so deep that it extends behind the edge of the kitchen island's worktop.
Number Of Stools 
The maximum number of stools that you can add to a kitchen island depends on the total length of your island.
A random estimation is that you should leave 22 inches to 25 inches of space for a single person, providing him with ample space to sit and work without bumping an elbow into the person sitting next to him.
Style
Yet another thing to consider is the style of stool, whether you want the one with arms, back, footrests, or those which can be adjusted and freely moved in 360° rotation.
Apart from this, there are a variety of colors to choose from. There is something special in every barstool style, whether you look for modern ones or the traditional ones.
Once you have figured out the style, seating, height, material, and other things mentioned above, the whole process of buying the perfect bar stools becomes relatively easy.
Type Of Kitchen Island Bar Stools
There are various bar stools to choose from, depending on the need. Here are a few common styles of kitchen island bar stools to choose from:
Swivel Bar Stools
Swivel bar stools can rotate freely in a 360-degree direction without the hustle of standing, turning it around, and sitting again. It allows you to effortlessly rotate and sit in a direction opposite to the normal sitting position.
This type is best for entertainment, and the most popular among them is the pedestal stool. However, avoid using these if you have children since they can impair your balance and fall.
Folding Stools
If you don't have too much space in your kitchen, opt for these folding stools because they can be easily folded and closed when not in use, freeing the area in the kitchen.
You can open them when you want to sit, and once you are finished, fold these stools and put them aside. Mostly, these stools are backless and are made of metal.
Tripod Barstools
Mostly made of wood and backless, these tripod bar stools are a good go option due to their affordable price and durable nature. They have three legs, placed evenly apart.
A distinguishing feature is that these can be stacked over each other when not in use, making the cleaning process easy and freeing the kitchen space for circulation. They are lightweight and can be moved around.
Pedestal Stool 
Lacking legs and coming with a single pole attached to the base, Pedestal stools are the best combo of a modern look with all features. They have a swivel mechanism built inside, along with an adjustable seat.
However, they occupy more space than a standard barstool and are not suitable for small kitchens.
Flat Stools
Flat stools, also known as backless stools, are the most common types of stools in pubs. They are an excellent choice because the seat is entirely flat.
You can easily turn around without the need for a swivel mechanism as these stools have no backs or arms. Moreover, they are budget-friendly too.
However, these are not the ideal type to choose if you want a comfy back to rest on.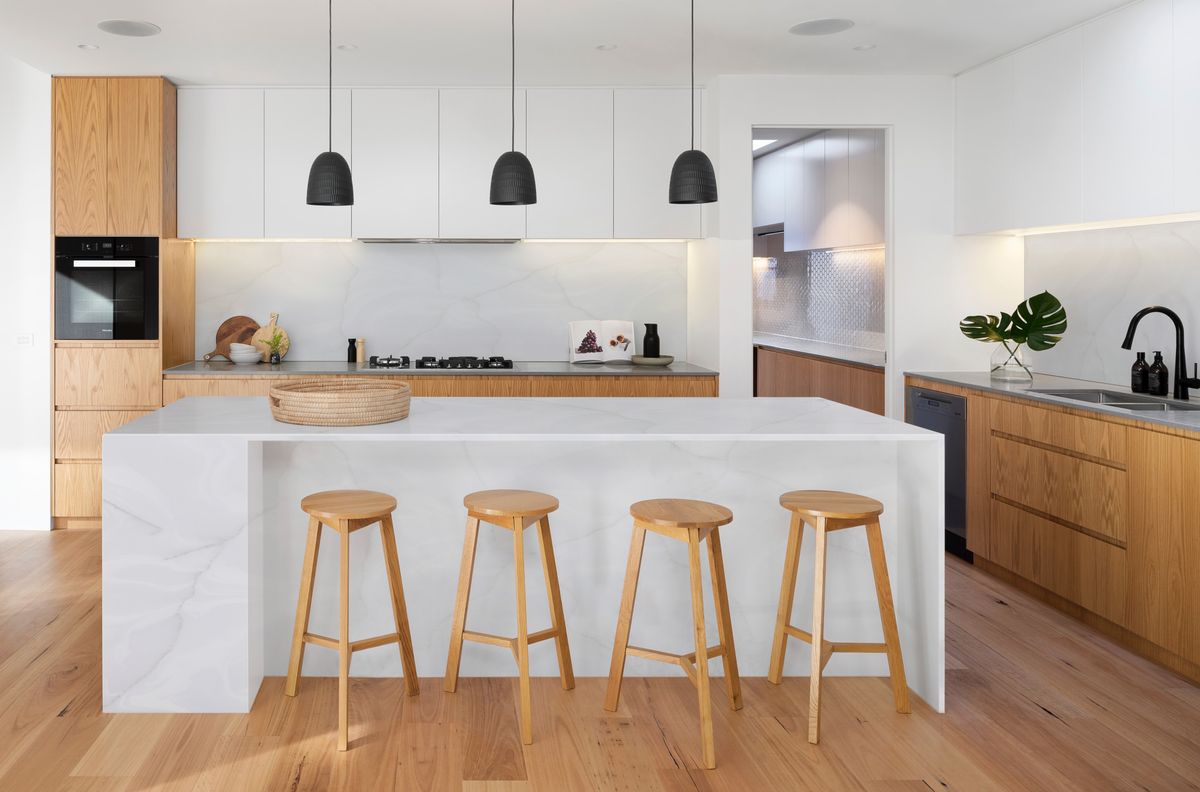 Back Stools
Back stools are yet another option to try if you want proper support at the back to rest on while having a meal on the breakfast bar or doing something else.
It supports your lower spine, preventing you from getting tired after prolonged sitting and lessening the chances for children to fall. However, the extended back appears above the top of the islands.
Low Back Stools
Low back stools are the best option to choose as they have traits of both backless and back stools. A small back that supports the spine prevents you from getting tired. And as it has a small rest place, it is not visible from the countertop of your kitchen islands.
Armchair Back Stools
Armchair stools only come with backs. They provide a more comfortable arrangement by providing space to rest, giving a more formal appeal to stools.
They also minimize the chances of the children falling off. However, while choosing these, it should be ensured that arms should be small enough to be tucked away into the islands.
Clip Bar Stools
Clip bar stools are yet another trendy stool with a distinctive double-over seating design along with a footrest. These come either backless or with a low back.
Industrial Bar Stools
Made with a unique combination of wood and metal, these industrial bar stools are designed to bring the city into space. They have a historic industrial feel with circular flat seats and footrests.
Some Kitchen Island Bar Stools Inspiration Ideas
Some of Kitchen Island Bar Stools Inspiration Ideas are given below;
Make It Stand Out By Adding A Pop Of Color 
Although you all like to keep the cabinetry and overall look simple by using a neutral tone palette, sometimes adding a spice of some pop colors can add to the look more than you can think of. These sizzling, bright colors will add warmth and a bold look to your kitchen. You can go for:
Bright red to create a hot yet classic look
Orange tools paired with dark brown wooden cabinets are the best combination to create a super cool look
Vibrant yellow stools stand out in a white or black kitchen look, leading to a heavenly feel
Rich shades of green are a perfect go-to with brown decor.

Grey Kitchen Scheme With Leather Bar Stools
Another hot trend that gives a lease of life to your old kitchen is using a combo of leather bar stools with your grey-themed kitchen. These leather bar stools add a touch of sophistication and steal the spotlight of the entire kitchen.
These leather stools are not only easy to clean, but with a grey scheme, it creates a high-end combo of unmitigated luxury atmosphere.

Wooden Seats And Wooden Flooring Makes It Classic
If you want functionality, uniqueness, and a charming look at once, rustic wooden seats with wooding flowing are the ideal option to choose. These wooden seats or bar stools have something different that makes them stand out from other bar stools.
The industrial, classy look created when they are used in wooden flooring adds charm to polished kitchens. Using the wooden floor and wooden barstools complement each other. These wooden stools are not only captivating but develop an understated look in your kitchen too.

Stools With Cushioned Backs In The Dining Area
Cushioned stools are the best choice when choosing stools for dining purposes primarily. The kitchen islands have become a social gathering hub for the family; therefore, a cushioned back provides comfort by supporting your back.
It looks more like a dining chair than a stool with its padded back and softer design. Moreover, you can choose the color according to the scheme of your dining area.

Four Legs Stool With Basic Theme Kitchen Island 
If you want to opt for a safe bet, go to a simple and sleek kitchen island with four-legged bar stools. These simple four-legged bar stools give a modern but minimalist look. This look is appealing and captivating and doesn't cost you bucks.

Modern Bar Stools In An All-White Kitchen
In the present day, all white seems to be trendy, then adds sophistication and a relaxed look to your kitchen. In such scenarios, add a modern style bar stool to finish up the style like contemporary two-tone stools, which ultimately lead to a chic appeal, or an S-shaped bar stool with shiny metal for a relaxed vibe.

Luxury Backless Bar Stools In An All-Black Kitchen
In the kitchen scheme, color is a primary element to consider, and what can look more attractive and sizzling than all black kitchen cabinets, paired with modern backless bar stools. Due to its natural design, a cool acrylic flat stool blends seamlessly with the all-black look. Both add a modern, trendy look to your kitchen.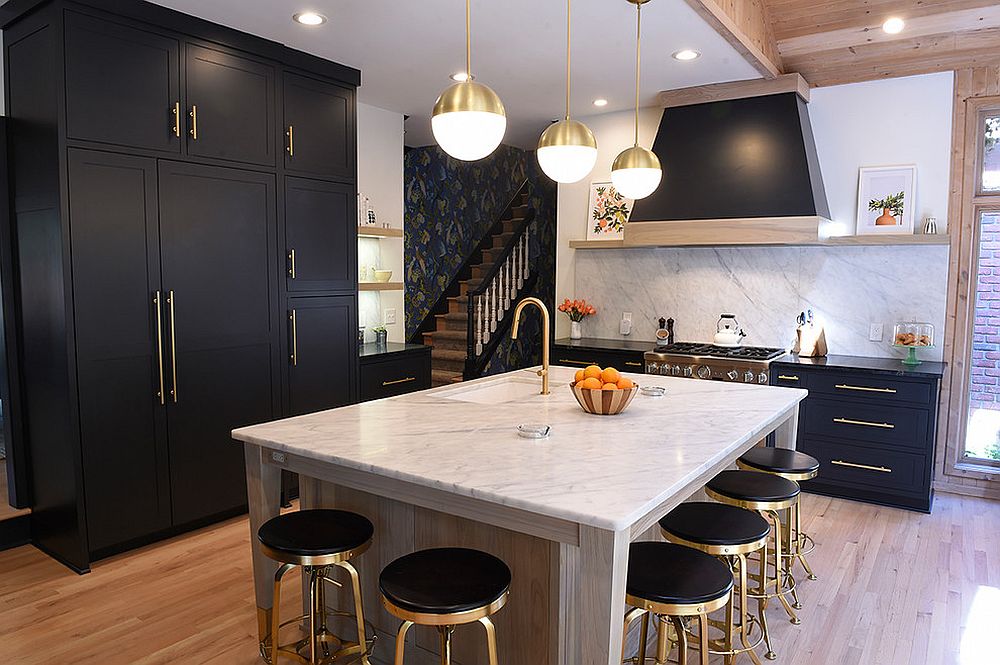 White Bar Stools With Brown Kitchen Cabinets
Like the all-black theme, brown kitchen cabinets with creamy white stools and a cane back are popular. The white-colored bar stools come in an endless variety of eye-catching textures and patterns.
Nostalgic Feel With Retro Bar Stools
Adding a retro chrome base bar stool, made in circular flat seat style, adds personality to a space. These bar stools are perfect to create a vintage look of the 50s in your kitchen if you love a historic, classic look. These mostly come with backs and footrests, adding to your comfort. So, add these vintage bars to your kitchen and give kitchen space a heritage yet modern flair.
Four Common Mistakes To Avoid When Buying Kitchen Counter Stools 
Kitchen bar stools are a great way to make your kitchen seem perfect, but only if chosen wisely. A single mistake makes a world of difference. Here are some typical bar stools mistakes that you should avoid:
1. Wrong Height 
Choosing the bar stools with the height that matches your kitchen island is the most important thing. If your barstool or counter stools are too small, it would feel like Goldilocks in the chair of her Papa Bear. On the other hand, a taller stool would lift you from the ground, and there will also be no space for legroom.
2. Stools That Aren't Child Friendly 
Never opt for designs or styles that aren't children friendly and comfortable. The latest stool designs look attractive, but they aren't satisfied.
Therefore, never choose such options as bar stools for your kitchen island.
3. Too Many, Or Too Less
Never compact the space of your kitchen with too many stools, or leave it empty by adding fewer stools. In both scenarios, the kitchen look will be destroyed, no matter how beautiful and classy style barstools you choose.
4. Stools That Don't Match The Decor
Last but not least, never opt for the design or look that doesn't match the interior design of your kitchen. For example, a rustic kitchen and modern metal barstools are a big no. You have to choose the style, the material, and the finish very carefully.
Frequently Asked Questions (FAQs)
Is The Height Of All Bar Stools The Same?
No, all the bar stools do not come in the same size. There are four standard-sized depending on the height dimensions:
Short barstool
Counter height barstool
Bar height stool
Extra tall barstool
Each stool height is as per the size of the countertops. To determine it, measure the height of the island, and buy a bar stool of almost 10 to 12 inches less in height.
Are Kitchen Islands Now Considered Outdated Design Pieces?
Kitchen islands are used for multiple purposes, like extra seating, storage, etc. According to a survey done in 2017, islands are gaining more and more importance every day. They are called the heart of kitchens now. 76% of the buyers prefer those houses with a kitchen island inserted in them.
How Much Does A Bar Stool Cost On Average?
The total cost of a bar stool depends on several factors like style, number of stools, material, fabric, etc. A single bar stool costs somewhere between $159 to $1300. The average price is almost $299 to $450.
How Do I Choose A Barstool For My Kitchen Island?
When choosing the suitable barstool for your kitchen island, you have to check for several things, like the height, the material, style, and design that complements your kitchen island and overall look, and most of all, your total budget.
How Many Barstools Should Be On A Kitchen Island?
The number of barstools in your kitchen island depends directly on the size of your island. The bigger the island, the more space it has for the barstools
Stool. Moreover, the seats in the corner need more stools. So, to find the total number, divide the entire length of the kitchen island with the space required for each. On average, it is recommended to leave 28 to 32 inches for a single barstool.
How Much Of An Overhang Do You Need For Bar Stools?
A typical kitchen island overhang for a comfortable seating area is almost 10 to 12 inches. This leaves enough space for legroom. However, there are three sizes of overhanging:
A standard overhang of approximately 1 inch
An extended overhang of almost 12 inches
A vast overhang with support is of more than 12 inches
Conclusion- The Final Verdict
Whether your kitchen island is primarily a gathering spot for family or a dining place where you have lunch, they are incomplete without barstools. According to the guide mentioned above, choose the barstools wisely because these stools can either seem like a breeze or destroy the look. Brace yourselves, and find the best bar stools for your kitchen islands!