You love farmhouse style, but you're not sure how to make the look work in your home.
Farmhouse kitchens are all about mixing modern and rustic elements. It's a great way to get an eclectic kitchen that is both stylish and functional.
This guide will show you how to combine these two decorating styles into one cohesive look for your home! We'll walk through each step of the process so you can achieve this farmhouse-inspired design on your own budget.
What Is A Modern Farmhouse Kitchen?
Let's start by breaking down what this style actually is and where it originated.
The term modern farmhouse has been around for a long time but has only recently become popular in the home decorating industry. It's a term that refers to decorating your entire house (or just one room) in a modern farmhouse style. The term is often used interchangeably with the terms eclectic, vintage, or shabby chic.
Farmhouse décor often contains natural or unfinished materials, antique vintage pieces, and a mix of organic shapes. The modern farmhouse style is inspired by the French countryside and the Amish style of living.
If you're crafty and like DIY, farmhouse décor might be for you because you can make almost every element yourself. The style is also popular with people on a budget because it's easy to find great pieces at thrift stores, yard sales, or eBay. If you are working within a tight budget, farmhouse décor is definitely the way to go!
What Materials Are Used In Modern Farmhouse Style?
In a modern farmhouse kitchen, you can expect to see organic shapes and raw or unfinished materials.
In a room decorated in the modern farmhouse style, you'll find furniture made from natural or unfinished woods with soft lines and organic shapes. For example, an antique French farmhouse table might be made from reclaimed or weathered wood and paired with a basic modern dining chair.
Raw wooden beams, unfinished furniture, and exposed light bulbs are common features in the modern farmhouse kitchen. You'll see more neutral colors like grey, bone-white, and soft blue.
A classic way to decorate your modern farmhouse kitchen is with wall art with an unfinished painted look. For example, look for modern prints that feature phrases like "home sweet home" or simply several light bulbs.
If you're looking to decorate with vintage pieces, keep an eye out for farmhouse kitchen décor that has a natural or rustic look.
Other common examples of farmhouse décor include jars, metal pails, and baskets. Also, look for plant stands, but if you can't find them in your local thrift store, you can always make your own.
The purpose of decorating the modern farmhouse kitchen with unfinished materials is to give it a natural and rustic look.
8 Great Farmhouse Kitchen Cabinet Ideas
Now that you know what you're working with, let's look at some of the most popular design trends and apply them.
Grayscale Shiplap Cabinets –  Best  Kitchen Cabinets
If you're looking to achieve this farmhouse design trend, then grayscale shiplap cabinets are a must.
This decorating idea adds a lot of dimension to the room and helps it stand out. However, it can be tricky if you have an existing kitchen with unfinished cabinets. The farmhouse shiplap style is simple and elegant, which will help balance the existing sharp lines in your kitchen.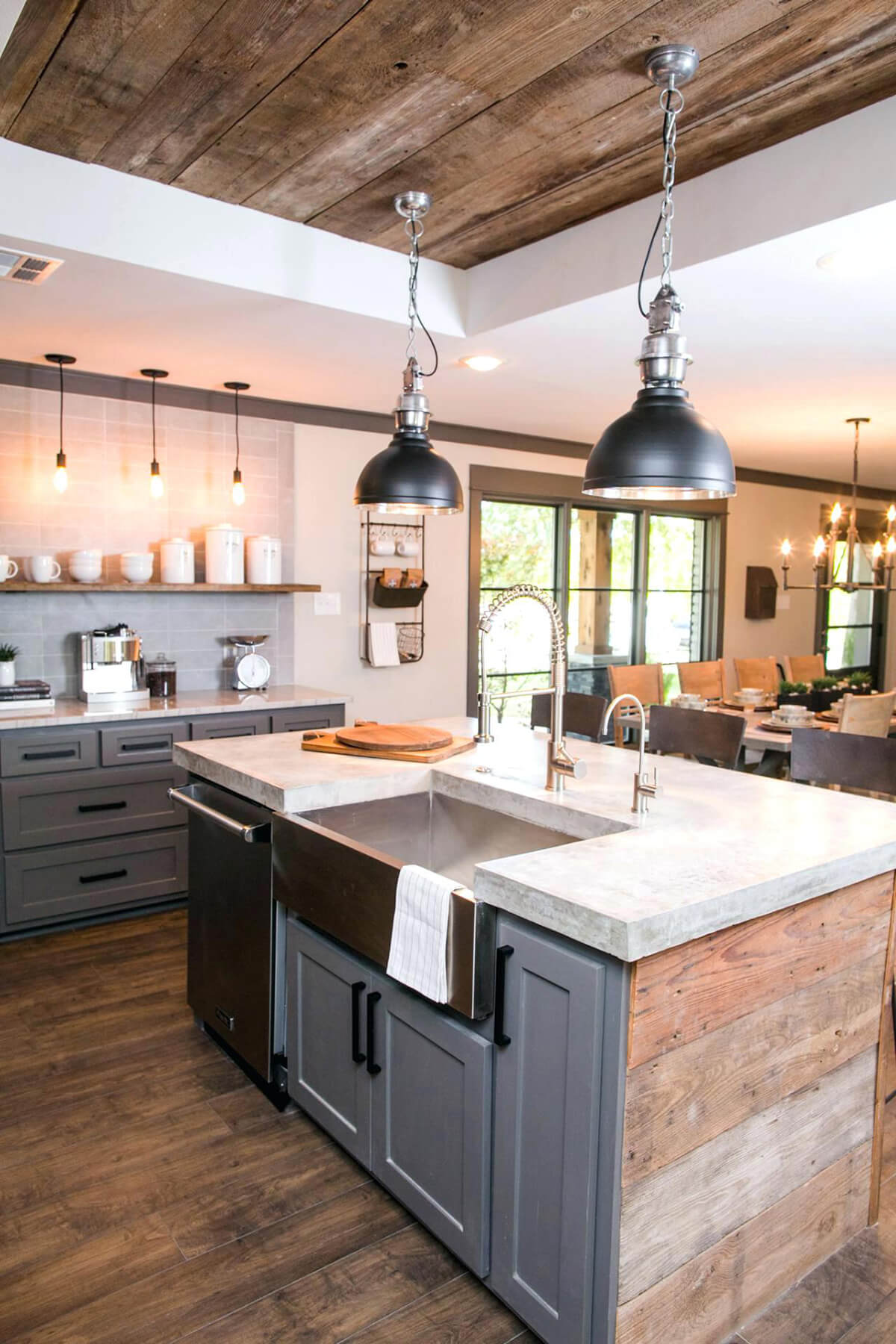 Light Gray Cabinets – Modern Farmhouse Cabinets
If you're looking for a more subtle farmhouse style, the light gray cabinets and white shiplap combination are your best options. The light gray color works well in just about any kitchen, and it's versatile and will work with the other colors you have in your space.
Light gray cabinets paired with white shiplap give the room a clean, contemporary look while retaining vintage charm. It's perfect if you have a traditional or modern kitchen design.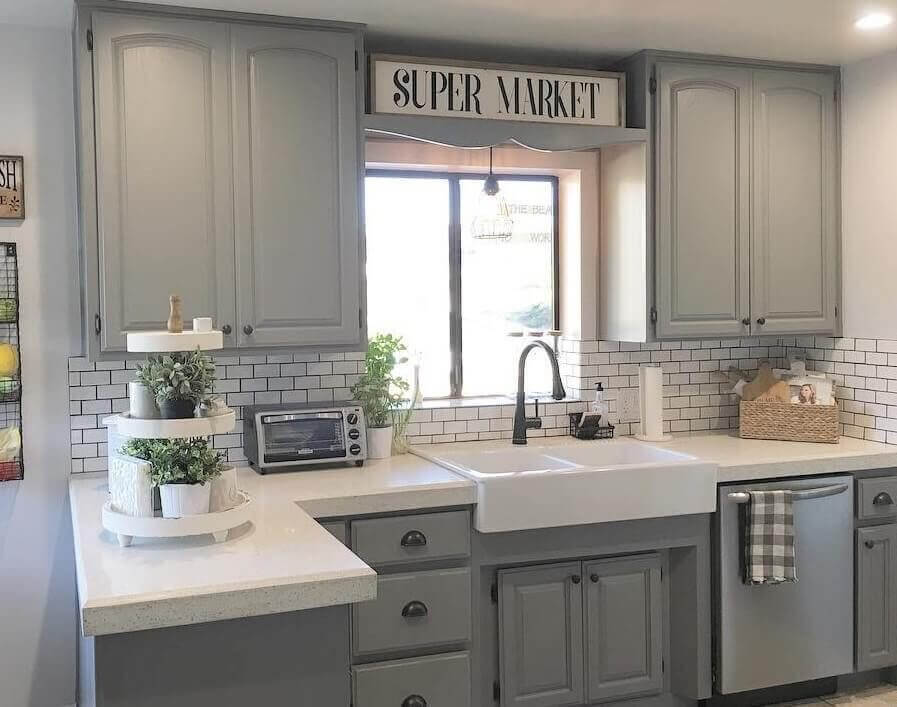 Light Blue Vintage Cabinets –  Best Kitchen Makeover
Some people take the farmhouse kitchen style to a whole new level by adding pops of color. And one of the best ways to do that is with light blue cabinets.
Light blue cabinets are gorgeous and will quickly become the focal point of your kitchen. It's recommended that you don't use more than two different colors in your farmhouse kitchen. So if you don't want to choose between the light blue cabinets and another color, choose one or the other.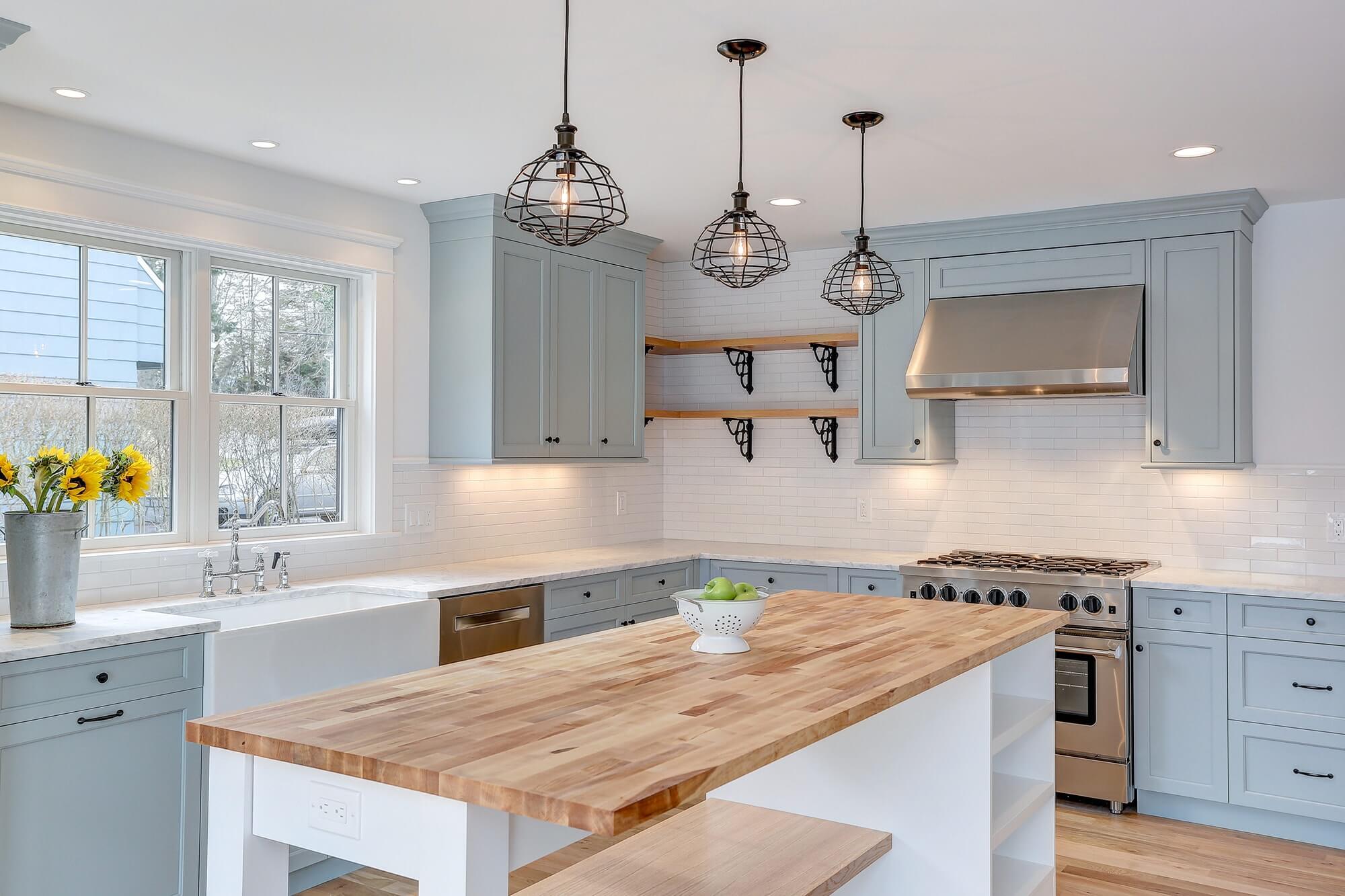 Classic Farmhouse Cabinets – Gives a Modern Twist
You don't have to go with a complete overhaul to give your kitchen a farmhouse décor. You can use classic farmhouse cabinets to add a hint of vintage charm to your space.
These cabinets feature simple lines with soft edges, which is perfect for today's modern farmhouse style. They're made from wood and are finished in a distressed black color.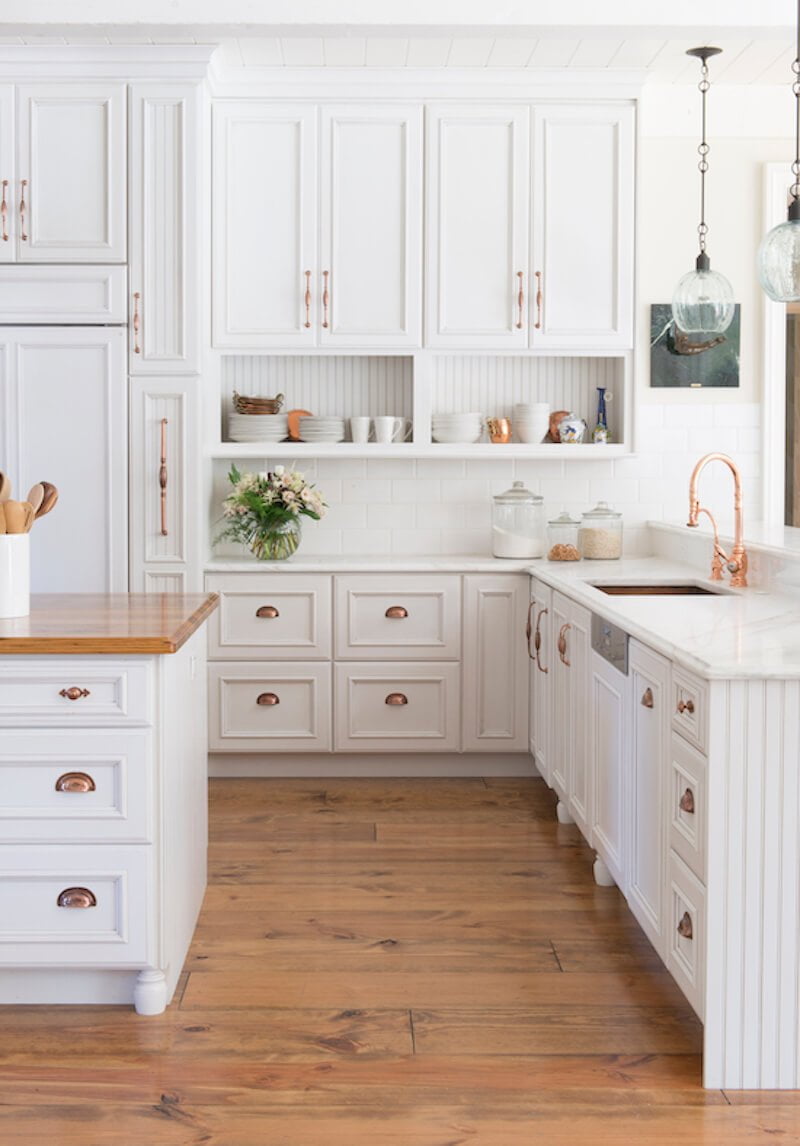 Raw Wood Kitchen Cabinets –  Unfinished Farmhouse Kitchen
If you're looking for a farmhouse style that cuts out the frills, then the unfinished look of raw wood cabinets is the one for you. There are no complicated finishes or fancy colors, just the natural beauty of unfinished wood.
If you're considering this style, make sure your cabinets are made of raw wood. Cabinets made from raw wood will give your farmhouse kitchen the same rustic look without any added colors.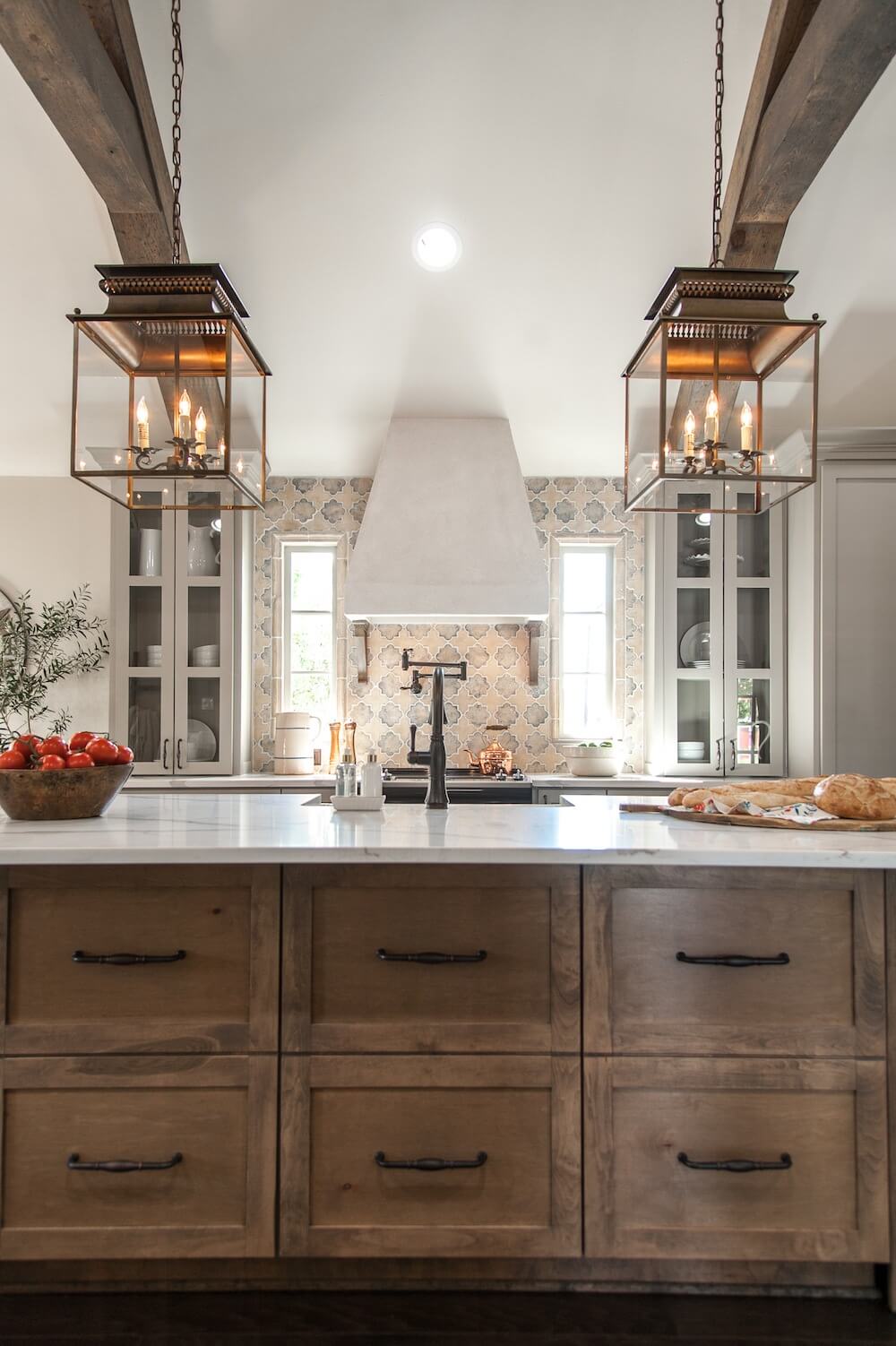 Off-White Farmhouse Kitchen Cabinets – Lightly Rustic
Off-white cabinets are a great way to give your farmhouse kitchen a unique look. They're perfect if you want a hint of the vintage farmhouse style without going too rustic or shabby. Off-white cabinets are also very versatile because they can be paired with almost any color.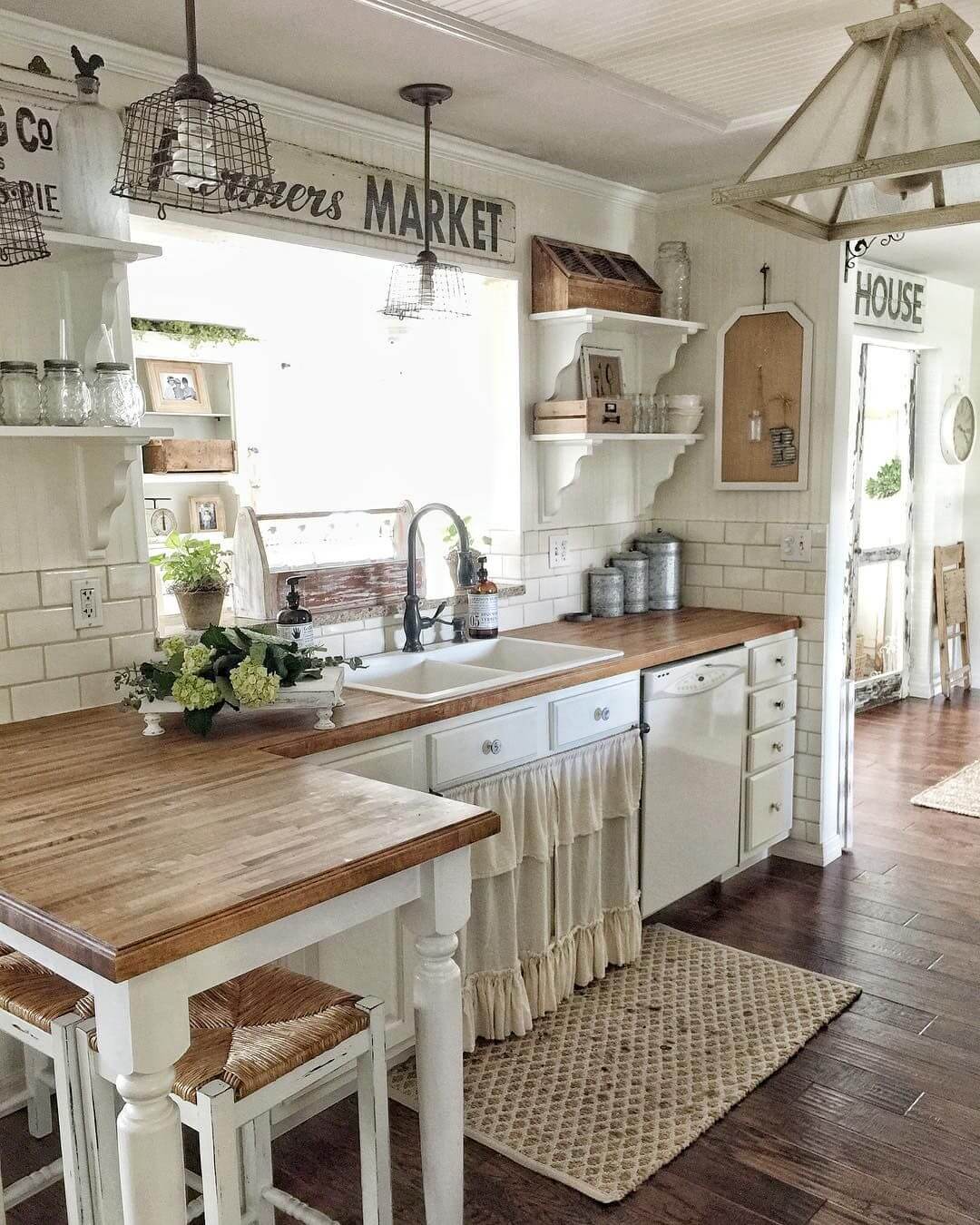 Victorian Farmhouse Kitchen Cabinets –  Beautiful  Vintage Décor
If you want a more traditional farmhouse style, then Victorian shiplap cabinets are the perfect option. They give off a very rustic look with their dark finish. Ornate details often characterize the Victorian style, so it's perfect if you want to add a lot of character to your kitchen.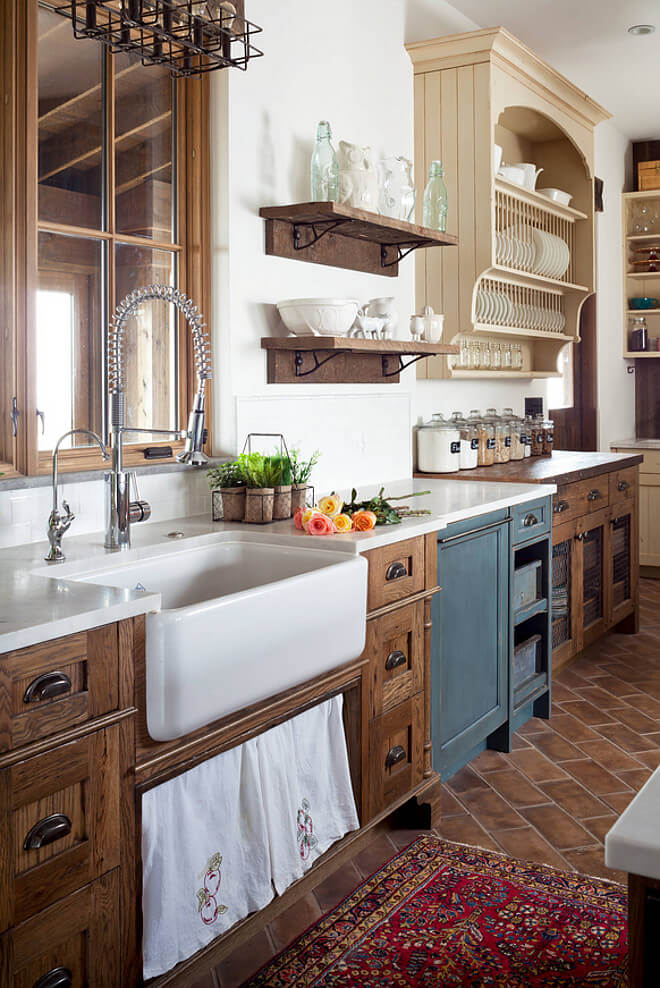 Mint Classic Style Kitchen Cabinets –  Perfect for a Farmhouse Kitchen
The mint green cabinets are a modern twist on classic farmhouse style. They have the same features as other shiplap cabinets, but the mint green color is unique.
Your kitchen will be perfect if you use mint green as an accent color. They're beautiful on their own, but you can also pair them with other colors for a complete look.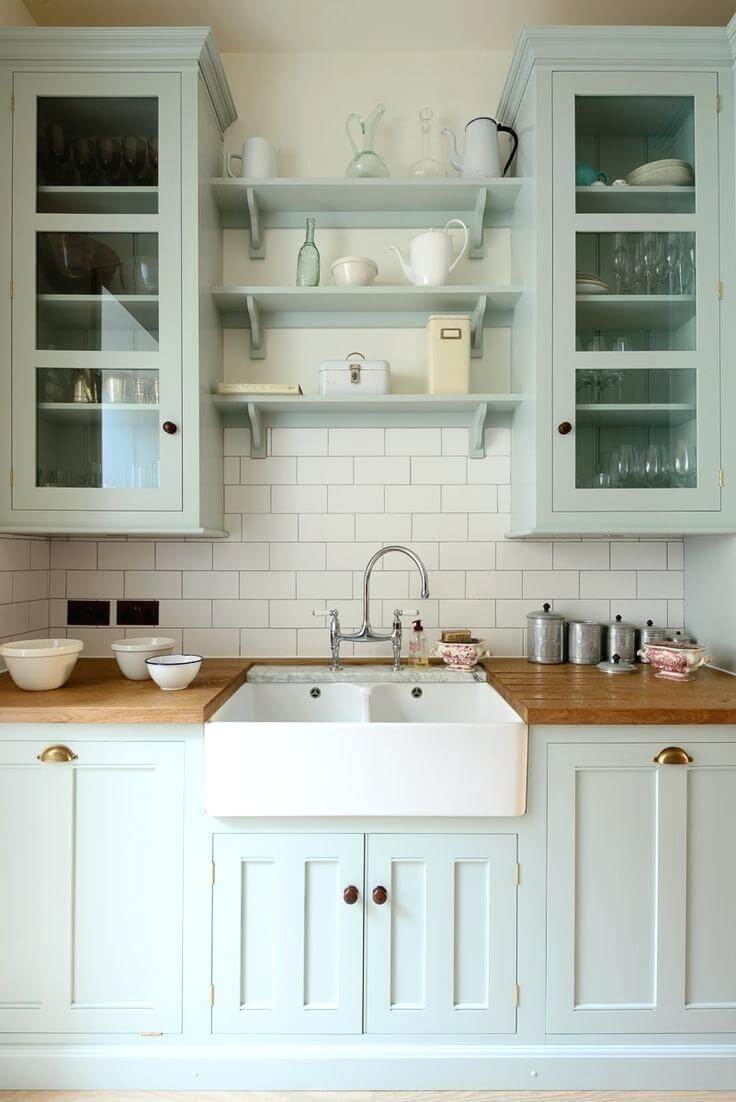 Top 10 Modern Farmhouse Kitchen Remodelling Ideas
Ready to get started on your new modern farmhouse kitchen?
Don't worry because we've got you covered. We have a list of 10 stylish ideas that will help you remodel your kitchen without breaking the bank.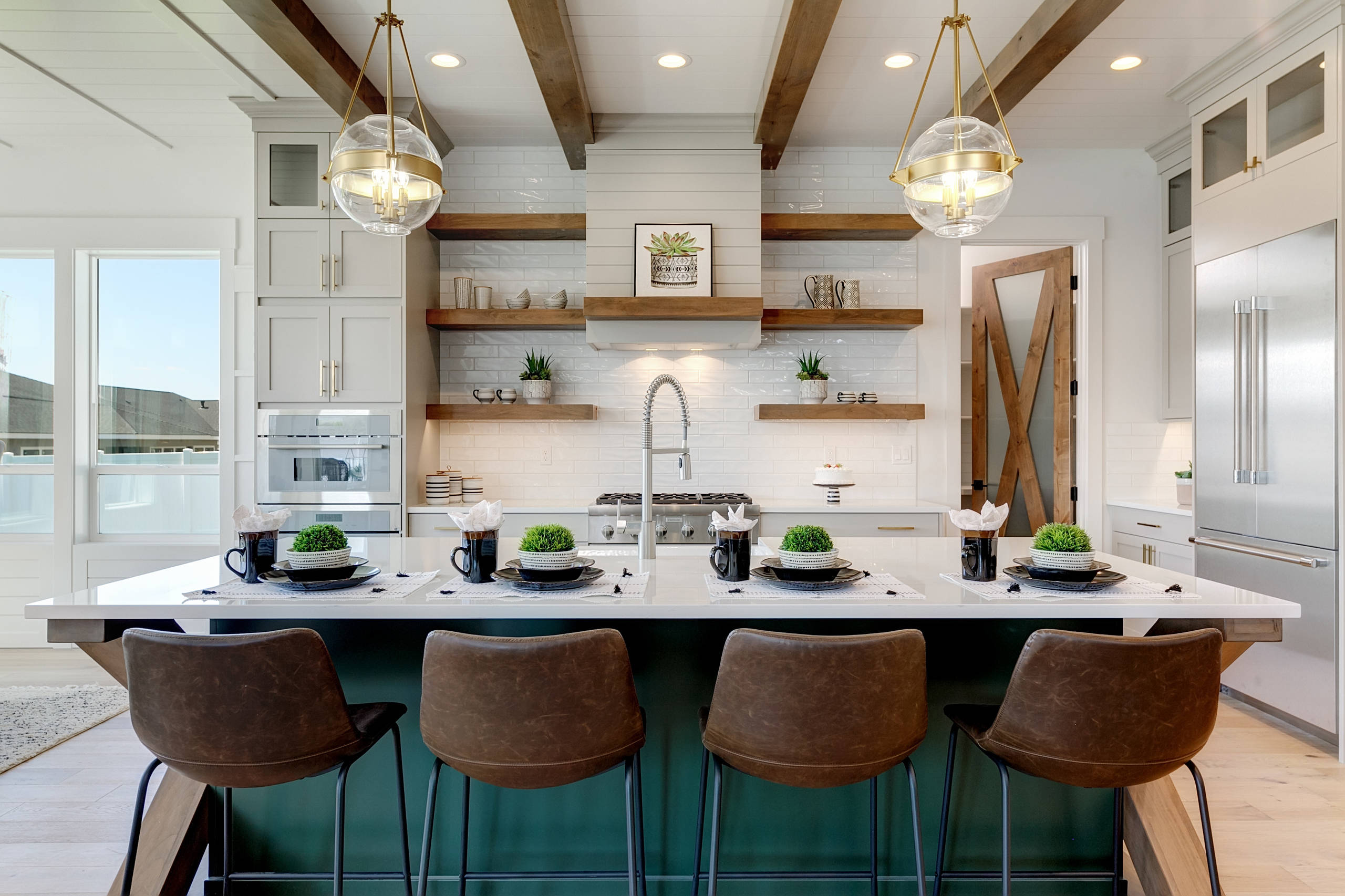 1. Use Open Shelving For A Clean, Contemporary Look
Open shelving is a must if you want to add a contemporary look to your modern farmhouse kitchen, and it's also a great way to add some extra storage space to the room.
The only thing you'll need to do is make sure there are enough open shelves for all your items. You don't want them overcrowded, but you also don't want any empty spaces.
2. Install Subway Tiles For A Vintage Farmhouse Style
If you want to give your kitchen a rustic look, then subway tiles are the perfect option. They're also very convenient because they go with almost any style.
Subway tiles come in various colors, so choose one that matches your modern farmhouse cabinets. You can also use them as an accent color if you want to change your kitchen style completely.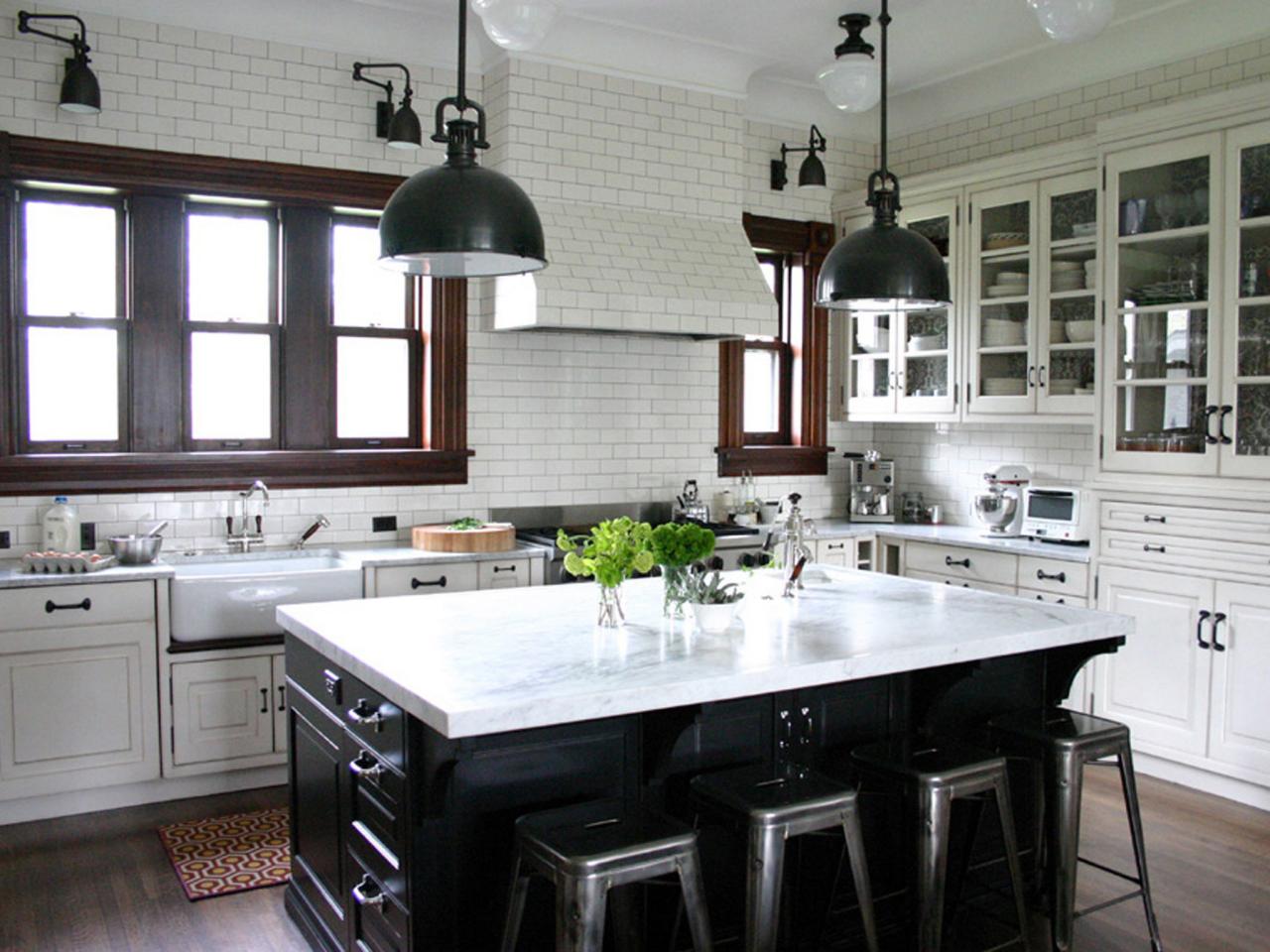 3. Add Some Hanging Pendant Lights For A Homey Feel
Pendant lights are unique in the sense that they capture your eye in all different directions. You can place them anywhere in the kitchen or dining room for a cozy feel.
Hanging pendant lights are great if you want to give your kitchen a homey look. They're also easy to install, so they shouldn't take you more than an hour or two.
4. Put The Kitchen Island Front And Center
A kitchen island is a great way to make your room look more open. If you're working with a small space, an island is a perfect way to expand it. Make sure you choose one that matches your kitchen's color scheme.
5. Install A Stone Or Granite Countertop
If you think your kitchen cabinets and countertops don't match, then consider switching them out. You can get a high-quality countertop for a fraction of the cost.
If you don't like granite or stone, you can also use butcher block or stainless steel. These two materials are great because they stand the test of time, but they also add a modern look to your kitchen.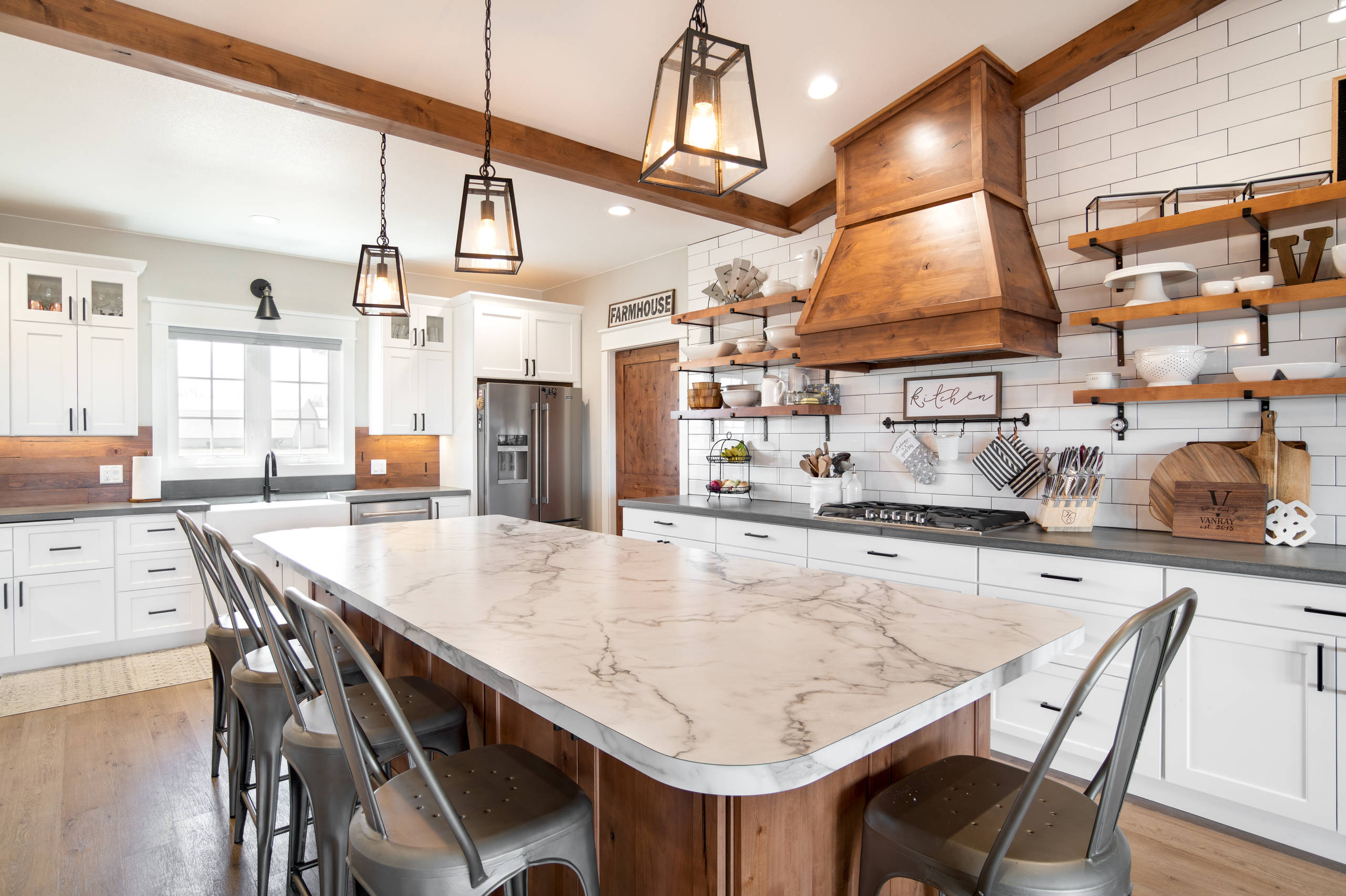 6. Add A Stainless Steel Appliance
Stainless steel appliances are a great way to add some character to your kitchen. They also give off a very modern look, so they're perfect if you want to modernize your farmhouse kitchen.
7. The Right Paint For Your Cabinets
The color of your cabinets has a big impact on the room's overall style. If you want to make them stand out, then choose a bright color. For a more natural look, pick a dark tone.
8. Give Your Room A Cozy Feel With Wood Flooring
If you want to make your kitchen look cozy, it's a good idea to invest in wood flooring. It has a beautiful texture, and you can choose from a variety of different colors.
You can use wood-like flooring in the entire room or just as an accent for your cabinets. It all comes down to personal preference, so choose whatever you think will look best.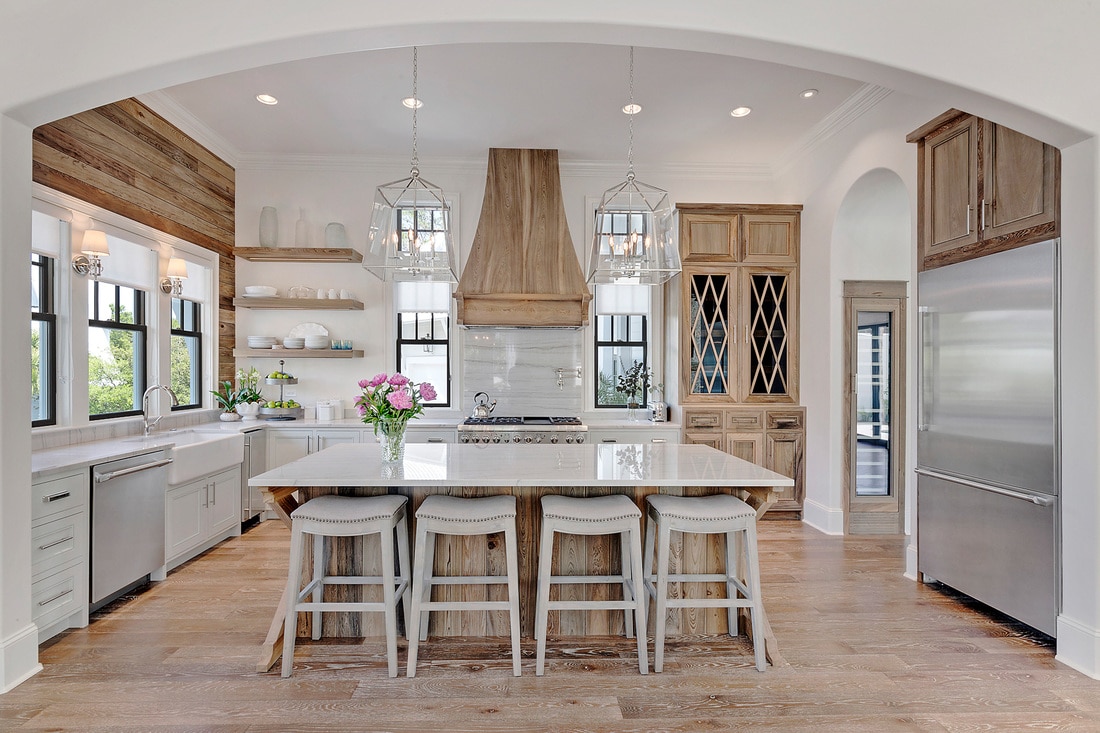 9. Add Some Seating For Your Dining Area
If your kitchen is attached to the dining room, then adding some seating will give the room a complete feel. You can also place a small table right next to your kitchen island.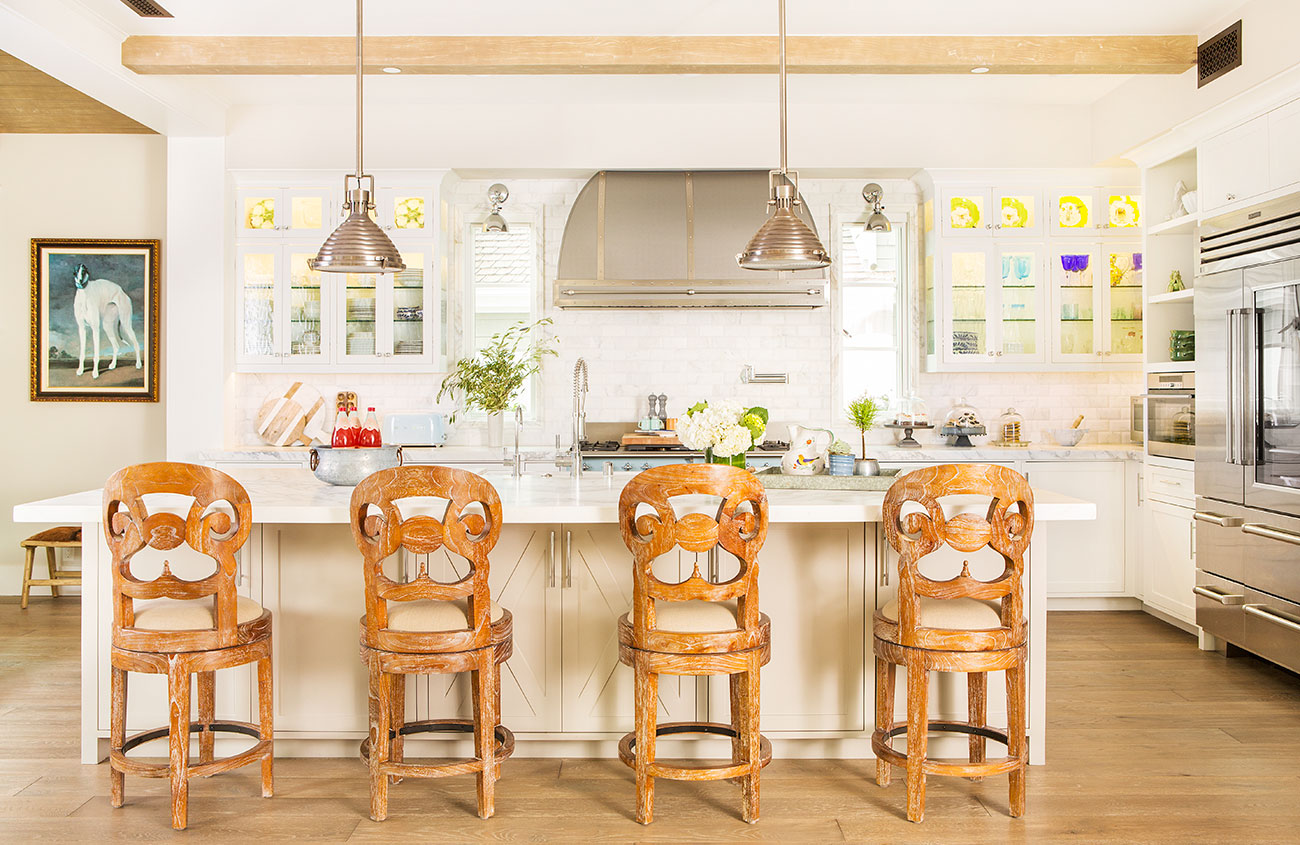 10. Hang A Bunch Of String Lights For A Romantic Feel
The right lighting is essential for your farmhouse kitchen. If you want to give the room a more romantic feel, string lights are the best option.
You can hang them in the center of the room, or you can wrap them around your kitchen island. You can also use them in the dining room or living room, which is a great way to bring more light to your home.
Frequently Asked Questions (FAQs)
How can I make my farmhouse more modern?
If you want to make your farmhouse more modern, then it's a good idea to start with your kitchen or dining room. You can easily do this by adding some subway tiles or stainless steel appliances, and you can also use neutral colors to give the space a more clean look.
Is modern farmhouse going out of style?
No, it's still a trendy design right now because of how unique it is. It mixes traditional and modern design elements, so it's perfect for both traditional and modern homes.
How do I make my kitchen look farmhouse?
There are a few tricks you can use to make your kitchen look like a farmhouse. If you're looking for a more formal and traditional design, you should pick wooden cabinets and light brown flooring. You can also add some neutral colors and roosters as decorative elements.
What paint did colors go with a farmhouse kitchen?
Soft neutrals like white, beige, and light brown are the best choice for painting colors. These two-tone colors also look great if you have darker flooring.
What accessories should I add to my farmhouse kitchen?
Fruit wreaths, floral prints, and farmhouse décor are trendy choices when it comes to accessories. You can also use industrial elements like industrial lamps, industrial fans, and industrial stools. Adding a farmhouse sink is also a good idea, especially to make your kitchen feel more authentic. You can also pick a farmhouse-style faucet or fixtures that look similar to those.
Conclusion paragraph:
A modern farmhouse kitchen is a style that combines the rustic, traditional feel of the country with clean, contemporary lines to create an elegant look. The use of natural materials like wood or stone creates a feeling of warmth while also providing durability and timelessness.
You can customize your space by using cabinet colors you love because there are so many shades available today! And if you want something truly unique, consider adding subway tiles for a vintage farmhouse style or installing hanging pendant lights to get more light into your room without taking up too much floor area. With these 10 great ideas from our list, we're sure you will be able to create a farmhouse kitchen that you love in no time!