Do you want to update the look of your kitchen? Although you are ready to spend investment to have an eye-catching look at your kitchen. But as a budget-conscious homeowner, you also want to stay within budget.
When it comes to remodeling your kitchen with a new design, cabinets are at the top of the checklist as they cover a large area of wall space and abruptly attract visitors' attention.
When cabinets are getting attention, there is the need to introduce a Thermofoil cabinet with such a high-quality finish that brings a classy vibe in your kitchen due to its flawless and silky smooth surface that is easy to clean. Their heat shield technology provides remarkable durability. It comes in a variety of colors and designs at affordable prices.
Are you interested to know more about them?
Then stay with us till the end to find out that the Thermofoil cabinet is a good choice for your kitchen according to your needs.
What Is A Thermofoil Cabinet?
Thermofoil, as the name suggests, Thermo means heat, and foil means a thin sheet, is a surface finish for cabinets that requires heat and pressure to put a plastic coating onto a base wood to give a smooth finish.
Wood has long been set as a standard for making cabinets, but with changing times, now modern and sleek kitchens are often designed and constructed with Thermofoil cabinets.
How Are Thermofoil Cabinets Made?
The term Thermofoil seems as if there is some metal in it. As foil is mainly associated with aluminum. But there is no metal in it.
Thermofoil cabinets consist of medium-density fiberboard (MDF) as an inexpensive base material covered with a thin sheet of plastic material, i.e., vinyl.
Technically, cabinet manufacturers use pieces of wood or MDF to introduce into a large machine. A thin vinyl sheet is heated and then pressured to get vacuum sealed over the base material.
This vinyl surfacing will result in a high-quality and great-looking finish that is very easy to clean in just a single wipe.
Thermofoil As A Refacing Material
Probably, you were thinking of refacing your kitchen cabinets. Right? Take a moment to think about the fact that led you to the decision to update your kitchen cabinets.
Do your existing cabinets are outdated for your lifestyle?
Or maybe deterioration of old cabinets was a reason for your decision.
Because cabinets serve storage purposes conveniently, their apparent look mainly forms the basis of room design. Proper placement of cabinets determines the room's layout, which ultimately sets a tone for the design and style of the room.
So, you will be pleased to know that Thermofoil cabinets might be a good choice for you. When it comes to styling your kitchen or any other room, Thermofoil cabinets provide you with a wide range of variety in colors and designs so that you can easily decide your theme for cabinets according to your taste.
Unlike wood, Thermofoil cabinets don't require painting. Not only this, Thermofoil works as a refacing material to give you a complete look like wood with the ease of cleaning due to its shiny and water-repellent surface, so you don't need to hassle with cleaning purposes. It shows that Thermofoil is a valuable technique for designing cabinets by spending minimum cost.
Thermofoil Finishes
Today's Thermofoil panels have become a top choice for interior designers, specifically for kitchen and bathroom cabinets, as they are available in different variations and colors to complement any design with finishes such as:
Top 5 Reasons Why Thermofoil Cabinet Is A Good Choice
The most important thing to consider while selecting material for cabinets is durability, longevity, and budget.
Depending upon finishes, colors, increase in the variety of designs and styles, Thermofoil has come a long way over the last decade, and all are available at very affordable prices.
On the other hand, Thermofoil is transforming how modern kitchens are designed and built. They can appear and feel just like wood, but with even more benefits.
Now we'll come to the point to give you the top 5 reasons why you should go for Thermofoil cabinets rather than typical wood cabinets. No doubt, wood cabinets have their grace in being so traditional and attractive in their look. But here is something that you need to know about Thermofoil cabinets. Let's get started!
Budget-Friendly
Thermofoil cabinets are the best choice for the users such as new homeowners or rental people who want beautiful cabinets by staying within budget. Only potential buyers prefer this budget-friendly technique for cabinetry to enhance the home's aesthetics at far more affordable prices.
Requires Low Maintenance
If we compare it with solid wood, cabinets, doors, or whatever is made with Thermofoil requires low maintenance. Due to its non-porous surface, it is water repellent, so the chance to get swell, split, damage, or even fall apart is less than plain wood. The ability of warping and fading is less in Thermofoil than in other materials. Thermofoil coatings have the slightest chance of chip or crack that generally occurs due to high humidity, which damages cabinets.
Easy To Clean And Care
In addition to cleanliness, if you want to prolong the lifespan of your cabinets, then a little bit of care is also necessary. As Thermofoil is water repellent, the chance to absorb water is less. In this way, the water stays at the surface, and you can wipe it instantly. Due to its smooth, shiny surface, it resists stains. Even the stubborn grease can also be removed easily with an all-purpose cleaner.
Variety In Design And Colour
Thermofoil comes in a variety of colors and designs. You can say it is a versatile material because it can be molded into any shape or pattern of your choice with such an embellished design that brings flat, matte, or glossy appearances. A wide range of colors is also available that will fit your taste.
Resistant To Heat And Moisture
Thermofoil cabinets can resist more heat than any other cabinet material, but only when heat shields are inserted between cabinets and heat sources. It should be done because if the Thermofoil cabinets are placed very close to the heat source, it might peel off the vinyl sheet that will demolish its finishing.
On the other hand, although Thermofoil is more moisture-resistant than plain MDF or wood, they are not moisture-proof, which means that if the lamination sheet is once damaged because of heat or any other source, then water may go into the core of the cabinets and as a result vinyl coating begin to peel, and MDF may get swell.
Durable
Kitchen cabinets made with Thermofoil are designed in such a way that they tolerate humidity and temperature changes, making them impenetrable. It is not wrong to say that it is because of durable PVC.
 Beautiful Appearance
Manufacturers use advanced thermoforming techniques to accurately replicate the natural look of materials, such as stone and wood, to give it a realistic finish responsible for its beautiful appearance.
Thermofoil Cabinets Vs. Wood Cabinets
Are you thinking of choosing between Thermofoil or solid wood?
Before refacing your kitchen cabinets, there are many things to consider as it is the most expensive and intricate room of any home.
Some of are
What needs to be updated in my cabinet?
Is it just remodeling the cabinet, or does it need to be replaced?
What would be better for my kitchen: a Thermofoil or wood cabinet?
Some considerations are essential as they have their own set of pros and cons.
Without any doubt, wood cabinets can give your kitchen an outclass look, but the following are some reasons making Thermofoil cabinets superior to wood cabinets:
Affordability
When it comes to quality kitchen cabinets, Thermofoil cabinets are a cost-effective option. During kitchen renovations replacing wood panels with Thermofoil can save money.
Versatile
Thermofoil panels are versatile in various designs, textures, and colors and can be used for multiple applications.
 Resistant to Warping
Thermofoil finish's quality is achieved using pressure, vacuum, and heat to fuse the PVC to the MDF board. It makes them impenetrable to moisture, making them less prone to warping and fading.
Non-Porous 
Thermofoil is nonporous, which is a bonus for great durability. Its non-porous nature can protect your Thermofoil cabinets from any damage.
Trendy Look And Feel
Trends are constantly changing, but if you want to create a modern aesthetic for a kitchen, you need to go for something that gives your kitchen style a new look. Therefore, Thermofoil can give your kitchen a modern look and feel with a smooth, glossy, or matte finish and resemblance with wood.
Solid Wood Cabinets – Expensive
And you know what else? Cost makes a big difference, and wood cabinets are more expensive than Thermofoil. Mostly, homeowners prefer a natural wood look at a reasonable price. Therefore, you can get a wood finish at a low cost that will mimic the look of natural wood with Thermofoil cabinets.
Protection Of Thermofoil Cabinets
Tips for the protection of Thermofoil cabinets are given below;
Avoid Excess Heat And Steam
If Thermofoil is exposed to heat regularly, it can peel the foil from the Thermofoil. We should avoid direct exposure of appliances that give off heat, such as ovens, toasters, or deep fryers, to Thermofoil cabinets.
 When using an oven or stove, use an overhead fan and exhaust fan to overcome steam and moisture. So, be careful while installing Thermofoil cabinets; if they are too close to the heat source, there is a greater risk of damage.
Enhance Ventilation In Your Kitchen
Proper ventilation systems should be there in the kitchen or bathroom, so that excess heat and steam do not damage your Thermofoil.
Opened windows and outdoor exhaust fans can enhance ventilation in your kitchen and bathroom, protecting Thermofoil cabinets.
Avoid Abrasive Cleaning
Cleaning cabinets requires a bit of care that will increase the lifespan of your cabinets. So, here we'll tell you about some preventive measures so that you can use very gentle cleaning techniques to avoid abrasive cleaning.
Dishcloths containing grease or any leftover detergent can grease your cabinets and destroy their look, so avoid using them for cleaning purposes.
Never use excess water for wiping your cabinet.
Always use a dry and clean cotton cloth and avoid an abrasive sponge.
Never leave any spills or water spots on Thermofoil for a long time; wipe them immediately because if you don't do this, it may discolor your cabinet finish.
Don't ever use an abrasive cleaner or harsh chemical detergent to clean your cabinets.
You can remove dust from cabinets daily with a dry cloth and use slightly wet wipes weekly.
Extra cleaning is required near the areas like the sink that continually contact moisture, so always be ready to dry these areas as quickly as possible.
Thermofoil Cabinets – Pros And Cons
We all know that nothing is entirely perfect. If Thermofoil cabinets are giving us great benefits, but at the same time, they also have some cons. Let's discuss them!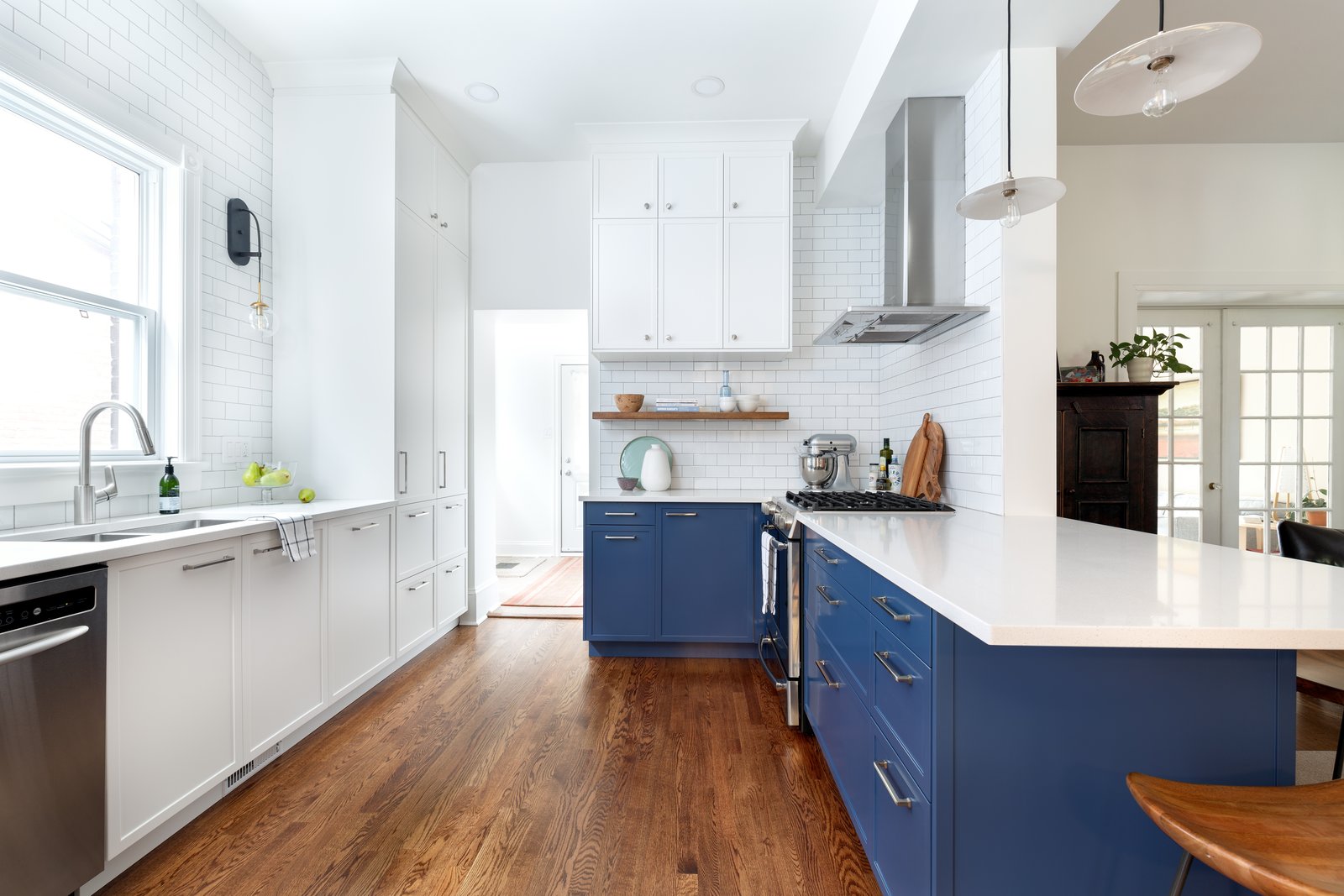 Pros
Water and moisture resistant
Consistent texture
Extremely easy to clean and maintain
Versatile due to the variety in colors and design
Affordable
Resist warping
Cons
Thermofoil cabinets are sensitive to heat. Therefore, it is not recommended to put them near any heat source.
They have a short lifespan because once irreparable damage occurs, then the cabinet will need to be replaced.
Frequently Asked Questions (FAQs)
Can A Thermofoil Cabinet Be Painted?
Yes, Thermofoil cabinets can be painted if the vinyl coating is good. You should call professional painters who bring suitable material to give your cabinets a good finish. Water-based and satin latex paints are suggested because they will last for a long time without scratching.
Is Thermofoil The Same Is Laminate?
Thermofoil is a specific surfacing of PVC vinyl over the base material, whereas laminate refers to any material used in lamination coating.
Can You Fix Peeling Thermofoil?
Well, it's a little harder to repair Thermofoil cabinets, especially when peeling is widespread and even the MDF core is also damaged. But if Thermofoil damage is localized to one or more cabinets, it can be made negligible by gluing the peeling with a good quality adhesive. Then it's a severe case and the only option, in this case, is to replace them with the new one.
How Long Will Thermofoil Cabinets Last?
The average lifespan of Thermofoil cabinets is around about ten years with routine maintenance. No doubt, it is a relatively short span for some homeowners, but at the same time, it's the best choice for the owners who want a quick and cost-effective remodeling solution for home sales or house flipping.
Why Does The Thermofoil Start Peeling Off?
We know that Thermofoil is a sandwich of two different materials, thin vinyl applied to MDF panels under heat and vacuum. The bond between them is very strong once surfacing occurs, but this bond will not remain vital for the long term due to the factors such as heat and moisture. This is why it loosens the bond between vinyl and MDF.
Conclusion – A Final Thought!
When it comes to remodeling or adding cabinets to your kitchen in your new home, kitchen cabinetry is an excellent opportunity to showcase your style according to your choice as cabinetry is the most visible thing because it gives your kitchen such a fantastic look that no other décor feature can do. According to your cabinet designs, you can plan a theme for your kitchen by coordinating your countertops, flooring, decoration, etc. It can give your kitchen a fantastic look.
Therefore, Thermofoil cabinets are the perfect choice for giving your kitchen a new and stylish look. You can get functional, sturdy, and attractive cabinets. In addition, Thermofoil cabinets arrive fully finished so that you don't need to worry about painting your cabinets.
We hope that this article will be helpful for you in deciding to go for Thermofoil cabinets for the trendy look of your kitchen.