If you're thinking about renovating your kitchen, that's a great idea! Keep going! But, do you do thorough research on everything related to it?
For example, what color scheme will you use for your kitchen cabinets? What kind of material should the kitchen cabinets be made of? What kind of design is popular now? Do you need to know before deciding?
You must all be very clear in your decisions because this cannot be renovated daily; it is a one-time investment in your kitchen, so make it worthwhile!
In today's market, natural wood cabinets have become the most sought-after option, and for a good reason. First and foremost, natural wood cabinets are available in various wood species, allowing you to choose the best suits your needs. They are also durable and can last for a long time, making them an excellent investment for your kitchen cabinets.
Things To Consider Before Picking Up Natural Wood Cabinets!
Think about the entire look of your kitchen. This can assist you in narrowing down your options for cabinet materials for your project. Each type of cabinet material has its own set of characteristics, which is why it's critical to consider the overall effect you want to achieve before choosing a material.
There are numerous important factors to consider before purchasing natural wood cabinets. If you are paying for a product without researching it, you are wasting your money. Therefore, make sure to purchase after thoroughly researching all of the essential things so that you do not later regret your decision.
Budget
You can buy natural wood cabinets in all kinds of styles and prices in the market, from high-end to cheap. It all comes down to how much money you have to spend on your kitchen cabinetry.
Price and category are the most important things to consider when choosing your kitchen cabinet material. The market has prices for everyone to get the best material for your money. Tropical Ebony, Brazilian Rosewood, Pine, and Mahogany are more expensive options for natural wood cabinets.
Color
Natural woods have their natural color, one of their most attractive characteristics; they are not painted to appear beautiful; instead, they have their unique color. Make your selection of any color and shade of wood that you believe will work best with your kitchen theme, furniture, and everything else in your home.
Grain
If you are low on money, then don't worry. For a lower cost, you can opt for wood-grain cabinetry, which has a gorgeous texture and can be made in various styles to meet your specific requirements.
The grain matching abilities of high-end solid wood cabinetry are outstanding. There is no other material that can compare to it in terms of appearance and feel because it is so distinctive.
Construction
It's essential to keep an eye on the cabinets' construction at all times! If you're going to spend money on something, you should look for quality. You can tell if something is of high quality by inspecting the joints in the cabinets or the way the drawers are put together, along with other things.
Quality
Last but not least, the essential factor to consider when purchasing natural wood kitchen cabinets is the quality of the wood used in their construction. For this, you must consider their durability, or how long they will be able to accompany you! Remember that quality is critical, so double-check everything.
Why Pick Natural Wood Cabinets?
For those of you who are still undecided about whether or not to use natural wood cabinets in your kitchen, here are some of the reasons why you should do so!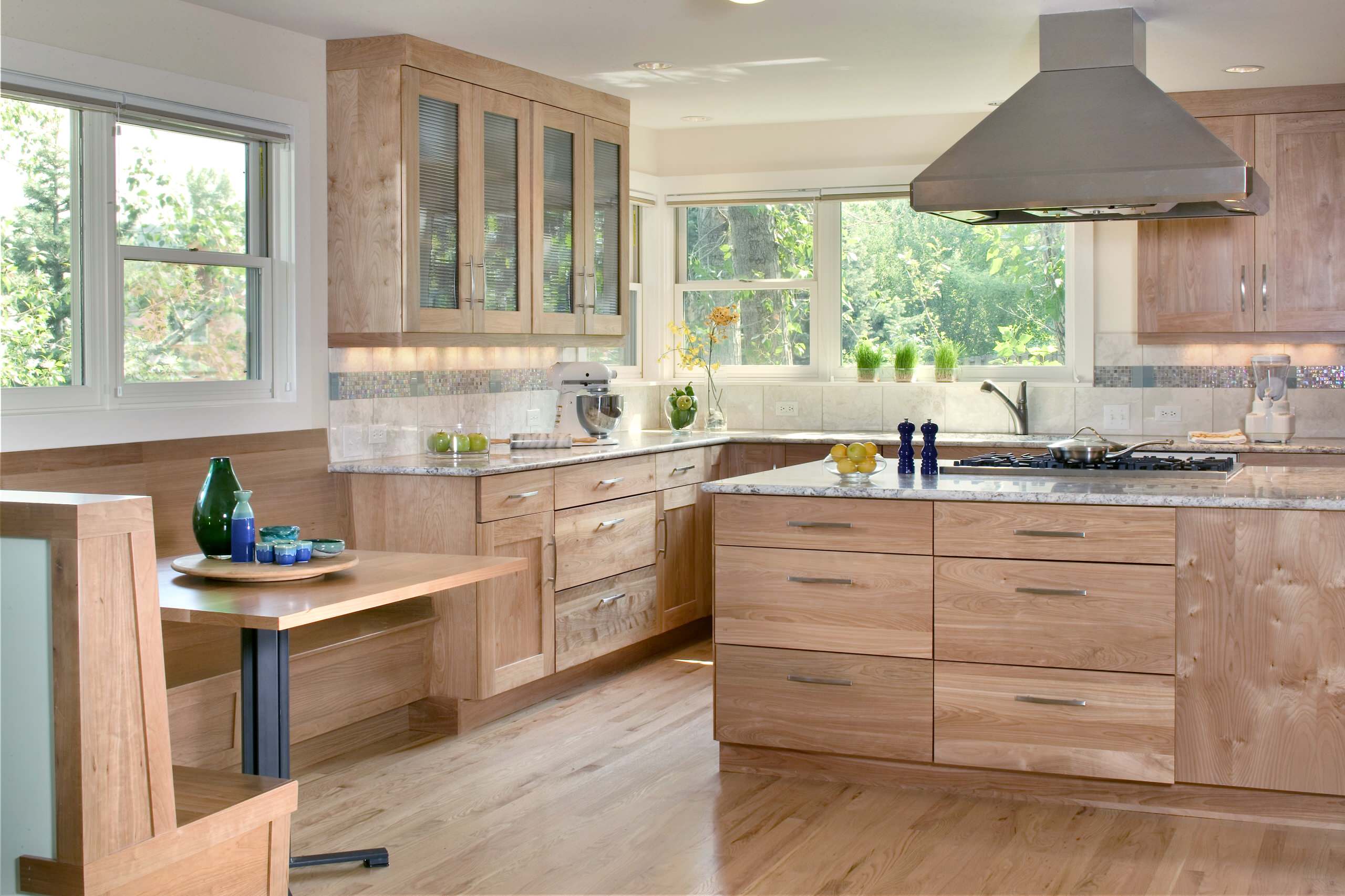 1. Because They Look Fancy
When you have natural wood cabinets in your kitchen, you instantly raise the bar on your kitchen's ambiance.
The beauty is in the details, and things in your kitchen will appear more appealing if you have these natural wood cabinets installed.
 2. They Are Available In Different Varieties
There are so many different types of natural woods available on the market, ranging in texture, color, designs, and grain, so that anyone can find the perfect wood for their kitchen cabinets. With so much to choose from, no one will be able to leave empty-handed.
3. Permanency Assured
The most significant advantage of natural wood cabinets is that they are permanent and highly durable; their durability is guaranteed, and you can choose any wood of your choice and rely on it entirely; these woods are of exceptionally high quality and are well cost-effective over an extended period.
4. These Cabinets Make People Want To Stop And Stare
Wooden cabinets will undoubtedly make an impression that will cause people to turn their heads; people will not resist but will stop and stare at this elegant wooden cabinetry.
 5. Highly Affordable
You won't have to worry about emptying your wallet when you buy natural wooden cabinets for your kitchen because they're reasonably priced and a fantastic option. For the most affordable cabinets, look no further than cabinets made up of Particleboard.
Particleboard is a composite material. It's made of wood, resin, and glue that's then covered with another material. Even though they can't withstand water very well, they're a good value for the money.
Just so you're aware, not all of these wooden cabinets are inexpensive; there are both high-end and low-end cabinet options available! The amount of money you're able to spend on your cabinets now depends solely on your budget.
How To Pick The Best Kitchen Cabinet Materials? 
Choosing the best cabinet material can be difficult because it cannot be changed the next day; this is a once-in-a-while time investment, and no one wants to make mistakes.
So, to make your job easier, we've come up with a list of some of the most important factors that will assist you in selecting the best cabinet materials for your kitchen.
Observe The Entire Space
As a first step, notice the available space in your kitchen and determine which cabinet sizes are most appropriate. A win-win situation is when you renovate your kitchen while preserving the existing kitchen space, or you can create additional space.
To avoid wasting valuable storage space, avoid purchasing large-scale cabinets.
Choose The Paint Color
The first thing that people notice when they walk into a room is the color, so picking the right paint color is a smart move! For example, cabinets can be painted in a color that contrasts with your other furniture or cutlery. It all depends on how your kitchen looks and which color will make you more productive.
And if you're wondering how the color of a cabinet can affect our productivity, you should know that color influences our mood enormously!
Additionally, choosing a suitable color scheme for our workspaces has increased efficiency.
Choose The Right Shade And Texture
When decorating your kitchen, picking the right shade is essential—making the correct choice now will impact your life in the long run.
Try to pick colors that you think will positively impact your mood, as well as the texture! The right shade of paint is the heart, and the right texture is the beat. They only work well when they go together, so be picky about your choice. There's no need to rush.
Look Out For Features
When purchasing anything, make sure you know all of its features. As we all know, there are trillions of identical products on the market. Still, each has its own set of features and specifications, so double-check before purchasing after determining which feature you require.
Lifelong Guarantee And Company Certification
The term "lifetime guarantee" and "company certification" refer to the product's dependability, or more precisely, the product's life, as well as the assurance that it will be useful during this particular time. Hence, it's necessary to look for a lifetime warranty and certification of the company that provides the product or service.
Types Of Kitchen Cabinets In Natural Wood
Types of natural wood kitchen cabinet options are given below.
• Maple
In terms of texture and durability, maple wood is the best option to choose if you are looking for flexible hardwood that will look fantastic in your kitchen. These maple wood kitchen cabinets will transform the appearance of your kitchen and make it much more sophisticated!
Maple wood is well-known for its attention-getting timber; you can't help but stare at Maple when you see it. It has a reddish-brown hue to it, which makes it a very striking color.
Characteristics of Maple Wood
They have a smooth grain surface.
Maple wood has so many different shades, such as brown, reddish-brown, deeper cherry reds, ivory, natural honey shade.
You can also paint them.
Birch
Birch is a light wood from the genus Betula; it is an entirely grained and stained wood. It is also referred to as a member of the maple family because it shares some of its features with maple wood.
Because of its fine texture and lack of scent, birch wood is a popular choice for furniture. When considering birch for your kitchen cabinets, you're making a wise decision. Take a chance.

Characteristics of Birch Wood
Least expensive wood
Extremely durable
Easy to stain
It is primarily pale in color.
• Cherry
So, by the name "cherry", it looks like a wood that tastes good. Though its name is
mouthwatering, don't start munching on it, though. If we talk about cherry wood, it comes from the cherry fruit tree! The cherry wood comes in many different colors, like red, white, yellow, and dark brown.
If you want to make your kitchen look a million times better, you can't go wrong with the cherry wood. Cherry wood has a smooth, sleek grain that can be made even better with stains.
Characteristics of Cherry wood
Highly durable
Smooth and satiny grain
Rich in color
Cost less as compared to other hardwoods
• Oak
This one is the most well-known worldwide due to its availability on numerous continents. The world's oak species population is estimated at 600 or so. Oakwood has a grainy texture, as well as a few flecks. Colors like red oak, yellow, and white are available as well.
Characteristics of Oak Wood
Very durable and strong
Available in many colors
Less expensive as compared to Cherry and Maple
Grainy in texture
Sturdy
Environmental-Friendly
• Walnut
If you're considering walnut wood for your kitchen cabinets, I'd say go ahead and make the purchase. It's possible to find walnut wood in various colors, from brown to yellow, for your kitchen cabinets. In addition to being a long-lasting wood, walnut is also well-known for its sturdiness and durability. Even though they are pricey, I can assure you that every penny is well spent on walnut.
Characteristics of Walnut Wood
Walnut cabinets look so appealing
Very stylish
Highly durable
It has a wavy texture
100% natural
Advantages Of Having Natural Wooden Cabinets In Your Kitchen
Wood is widely regarded as the most beautiful material for furniture and other items due to its elegant and homey appearance. One of the most striking characteristics of wood is its natural appearance, which enhances the beauty of natural wooden kitchen cabinets.
1. Appealing To The Eye
Although it is not explicitly listed as an advantage, it is fair to say that having natural wooden kitchen cabinets in your home is a win-win situation because they are extremely aesthetically pleasing to the eye. And just by looking at it, you can tell how high-quality it is.
2. Long Term Reliability
On the other hand, natural wood cabinets are a popular choice amongst us, and the primary reason for this widespread popularity is the long-term dependability of natural wood.
3. It's Simple To Keep Clean
Wooden cabinets are straightforward to maintain, requiring nothing more than a gentle wipe down with a soft cloth to keep them looking fresh.
You can clean them from time to time with a mild wood cleaner. If you do get a scratch, pencil mark, or damage in your paint job—which you will—you can easily scoop it out.
4. It Fits Any Decor
The beauty of natural wood is that it complements any decor. Whether you want a sleek look in your kitchen or give it a nostalgic feel, natural wood will work with anything.
Some Drawbacks Of Wooden Cabinets
If I claim that wooden cabinets have no drawbacks, you'll all catch on that I'm lying. No matter how great something is, it has some weak points valid for wooden cabinets.
They are a bit expensive when we compare them with the other cabinets
They typically require a significant amount of time to create when made to order.
When it comes to cleaning, they are hard to deal with
Because of the humidity, they are all wrapped up.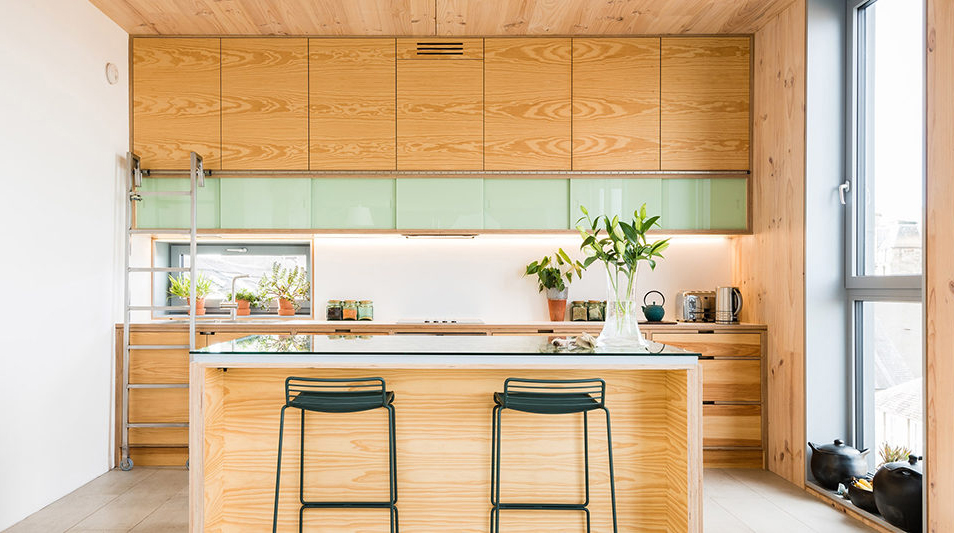 What To Avoid While Buying Wood Cabinets?
Buying wood cabinets for a new kitchen comes with a few pitfalls that you should be aware of to avoid damaging consequences on the design of your new space. Please keep a close eye out for trouble and avoid it.
Frameless Cabinets
The frameless cabinets are also known as "European" cabinets because they are commonly used and manufactured in Europe. They are slim in design because they do not have vertical face frames, making them sleeker, but are they safe? How long-lasting is it?
Because of their lower durability, frameless cabinets have received a bad reputation. As a result, frameless cabinets have more disadvantages than advantages; therefore, avoid looking for frameless wooden cabinets as they are a waste of time.
Cheap Material
If you're buying wood cabinets, be wary of using low-quality materials, as this could mean that all of your hard work will be in vain. After all, what's the point of renovating if everything ends up falling apart or breaking after a short time?
So, if you want to avoid regretting your decision, buy the best material possible.
Five Creative Ideas For Wooden Kitchen Cabinets
The five creative ideas for wooden kitchen cabinets are given below.
1. Give Your Kitchen A Chic, Trendy Look
 You will be spending a lot of time in the kitchen, and the most important thing to remember is that you are renovating it not only to impress your guests but also for yourself, so be as creative as you can with your kitchen look and make it as chic as you want.
What about a kitchen that is a riot of color? Make your kitchen feel like an expensive cafe by incorporating pale-colored birch woods and various colors into its design.
2. Pick A Dark Piece Of Wood For A Sleek Look
Even though it's a well-known fact that dark colors are always a good idea, how about pairing your kitchen cabinets with chairs that have an entirely different contrast style? As you can see in the image above, this kitchen design changes style and something very different.
Adding a dark piece of wood will make your kitchen look a million times better than it did before.

3. Add Elegant Wood Furniture/Stools To Your Kitchen To Make It Look Nice
Make a fun seating set up in your kitchen for this plan. With small wooden stools of two different contrasts, you can match the stool's color with your kitchen island and with the color of your kitchen cabinet. Be as creative as you want!
4. Pair A Variety Of Different Wood Together
When there is a wide range of options, why limit yourself to just one? As I previously stated, you are free to be as creative as you want, which means you can pair a variety of different types of wood together as well! Everything can be combined uniquely, so why not experiment?
5. Customize Your Kitchen's Look By Mixing Colors And Cabinetry
You can coordinate the color of your walls with the color of your kitchen's furniture and cabinetry. As you can see in the photo above, this kitchen option is desirable! This is how you can experiment with your ideas and create the ideal environment for yourself.

Frequently Asked Questions (FAQs)
What Kind Of Wood Is The Most-Costly For Cabinetry?
Mahogany is regarded as one of the most expensive and luxurious woods. Compared to other woods such as oak, pine cherry, and so on, these are the most pricey.
Mahogany is only found in tropical areas, so vendors have to buy and ship it from somewhere else, and it's also very durable, good-looking, and strong. This makes it very pricey.
What Is The Highest Finish For Kitchen Cabinets?
High gloss, Matte finish, Satin finish, Semi-gloss finish. The paint's finish has no bearing on how long it will last. The paint formula determines how long it will last (oil- or water-based, etc.) So, in essence, we cannot name a single highest finish because they are all extremely good.
What Color Scheme Will Never Go Out Of Style For Kitchen Cabinetry?
We all know that white and black are universally popular, and this color scheme never goes out of style for anything, including your kitchen cabinetry. The best thing about this color scheme is that it instantly makes everything look more refined and sophisticated.
Conclusion – Final Words!
If you want to have the best kitchen in your neighborhood, use natural wood cabinets. In this article, I've covered everything from the wood's characteristics and durability to design options that might help you achieve that goal.
Now that you know which wood is best for your kitchen, you can design it with the wood of your choice and create the best workspace possible. Good Luck!